Released by NuWave a company that specializes on home appliances on a budget under their motto of "live well for less"; the NuWave OxyPure Air Purifier is an impressive first release for the company in the air purifier market. At a height of 26 inches and an average cost of $600 the OxyPure is a large and heavy duty model that will definitely stand out compared to it's smaller counterparts in the market.
Eliminate Smoke, Bacteria, VOCs, Germs, Dust, Pollen, Mold, Pet Dander, Allergens, Lead, Formaldehyde & Gases!
The size and range of the OxyPure make it an ideal model for the bigger rooms in your house as it can reliably filter the air of large spaces. On the flip side this does mean that it's not exactly the best small room air purifier. While you can use it for this a smaller, lighter and cheaper model can do it as well. The OxyPure is meant for those who want constant air filtering on the busiest areas of their house and at that there's no doubt it excels.
Title
Nuwave OxyPure Smart Air Purifier Cleans X-Large Area up to 2,671sq ft, 5-Stage Filtration, Auto...
LEVOIT Air Purifiers for Home Large Room, H13 True HEPA Filter Cleaner with Washable Filter for...
BLUEAIR Air Purifier Large Room, Air Cleaner for Dust Pet Dander Smoke Mold Pollen Bacteria...
Winix 5500-2 Air Purifier with True HEPA, PlasmaWave and Odor Reducing Washable AOC Carbon Filter...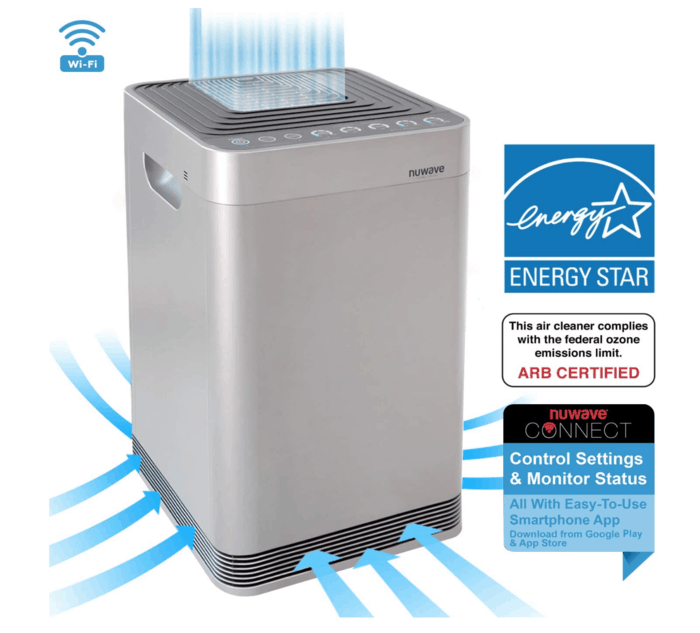 While an air purifier is largely a health oriented product the OxyPure stands out as a great option for households who are heavily invested in this angle. It's filtration system is strong, can detect air impurities on it's own and despite all is rather silent and low in energy consumption. These traits make it one of the best air purifier for baby and small children. The OxyPure is overall meant to be a device for the whole family, and as we take a closer look at it's key features this'll become more apparent.
Main Features
One of the widest ranges in the market: The OxyPure is described as being able to clean areas up to 1,000 sq feet, but being ideal 515 sq feet rooms. While both of these numbers are outside of usual air purifier recommendations; there's no denying that the strong technology in the OxyPure makes it great for wide environments.
A 5-filter system ensures superior cleaning: The OxyPure counts with 5 different filters to make sure no particle escapes it. Combining Steel, HEPA and Carbon filters the OxyPure can catch practically any impurity in the air with no issue.
Energy efficient: One of the most interesting features of the OxyPure is it's energy consumption. The device can detect air impurities on it's own so it'll only run when it's needed. This means that you'll save a lot of energy on the long run with it.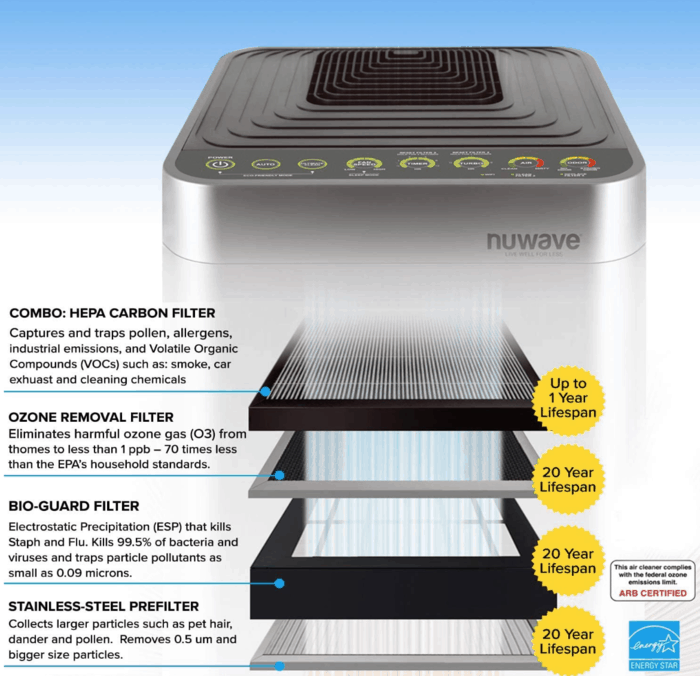 Pros 
Most of it's filters are completely washable, and while the carbon filter can't be washed the box already comes with 3 replacements.
it's incredibly handy since it doesn't need any interaction to work. The OxyPure can just be plugged in and you can rest assured it'll clean the air as needed.
The filter system really does a great job at it's work. In just a few days you'll start to notice the change, especially if you have allergic reactions.
Cons
it's not the most affordable system available. While it's range of features is great other models have similar specifications at a lower cost. So despite it's performance it's not the best deal for the money.
Receiving customer support from NuWave is really hard. While the build quality is overall great if an issue does happen… be ready to spend a long time waiting for a response.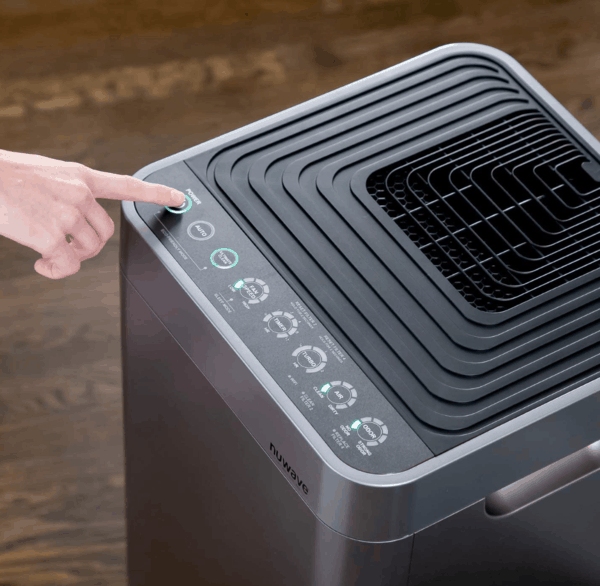 Overall Rating Of The Nuwave Oxypure Air Purifier
The NuWave OxyPure Air Purifier sits at a weird spot in the market. While it definitely aces it when it comes to functions it does have two major drawbacks. Finding a similar model for a lower price won't be too hard, and the lack of support really sours the deal. As it stands while the machine itself is great and really does what is advertised, the cost and difficulty of reaching NuWave means that at the very least you probably should wait for a sale. It does what it advertises, but that doesn't mean it's that great of a deal as it stands.
For more information on how air purifiers work, see our article here.
At Whatfans.com we like to make sure we give honest reviews, please comment below if you like our review.
The Overall Rating is 4.5 Stars.
Check Out WhatFans Other Air Purifier Reviews below –
Proton Pure Air Purifier Review