You may have seen Bionaire fans becoming more popular. Are you wondering if their products are worthy of the hype?
I've noticed a few of their models in multiple friends' homes and wanted to explore more about the brand.
The manufacturer makes all sorts of fans, tower, pedestal, and table fans. However, in this article, we've put together a Bionaire window fan review to look at the brand's features and whether their range of window fans lives up to expectation.
In this Bionaire window fan review, we will be reviewing 4 Bionaire fan units.
Two of them are twin window fans and the other two are triple window fans. All of their features, pros and cons will be reviewed and compared at the end and it will help you get a clear idea about the performance of the fans.
So let's have a look at them.
But first…
Presenting Bionaire as a Brand
The Bionaire brand was first launched in Montreal back in 1977 and was being sold in North America by 1983.

Image via bionairecanada.com

Image via bionairecanada.com
They didn't start with fans, though. Initially, they made just Air Purifiers and Ionizers, with a focus on improving the quality of the air.
Bionaire's brand is built on keeping people comfortable, and their website reminds potential customers that most of us spend on average 90% of our time indoors.
This comfort was expanded to making fans.
These were added to the brand in 2001, by which time Bionaire was also making Humidifiers and even Heaters. Between 2004 and 2009 they started to offer their products all over the world, expanding to Latin America, Europe, and India.
Bionaire manufactures its products in Canada, where the company was originally started, so they aren't outsourced to China or elsewhere.
The company has retained this Canadian base in spite of the fact they were bought out in the 1990s by "The Rival Company". This is an American maker of small appliances who own other brands including Crock Pot. They were then acquired by the Jarden Corporation in 2005.
Bionaire's research and development commitments are impressive.
Almost every brand claims to be focusing on new products, but Bionaire regularly releases new models for the home as well as innovations in their range. They commit to thousands of hours of research improving home products, including window fans.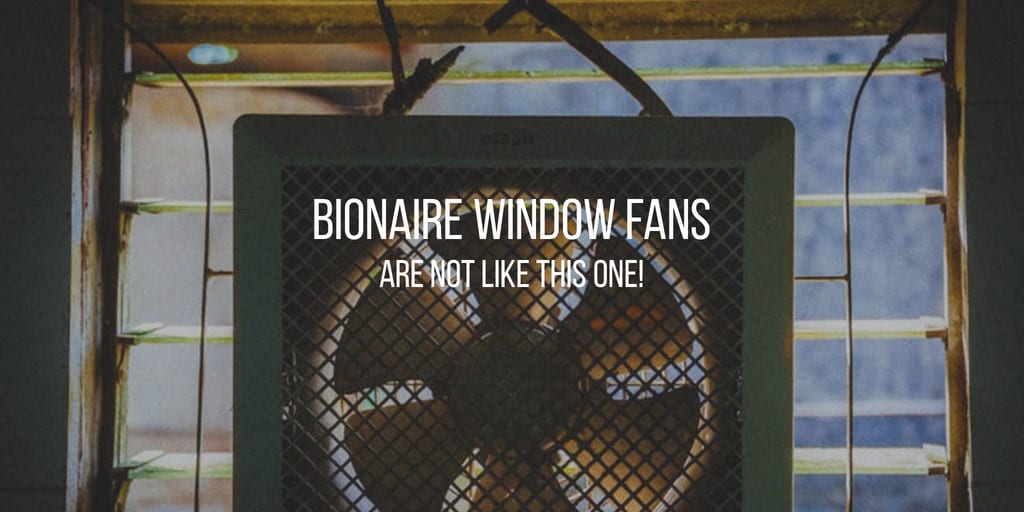 The Bionaire Window Fan Range
These window fans are an excellent way to harness the fresh air of outdoors and cool your home in the process. There are six currently manufactured products within the range of window fans offered by Bionaire, four of which are compared in this article.
Some of the products only have very subtle differences.
For example, there is a Bionaire® Thin Window Fan with Comfort Control Manual Thermostat within the range and also a Bionaire® Thin Window Fan with Comfort Control Electronic Thermostat. The thermostat is the only difference between these.
The ideal customers for the Bionaire window fans are those who have plenty of suitable windows in which to fit them, who can take advantage of this technology.
Also, think about where your window is in relation to where you are in the room. This article explains the sensation of airflow and how it can help you to feel cool. A window close to your seating area is best.
If you are looking for a fan for a room with no windows then it may be best to go for something like a pedestal fan or tower fan, which don't rely on a window.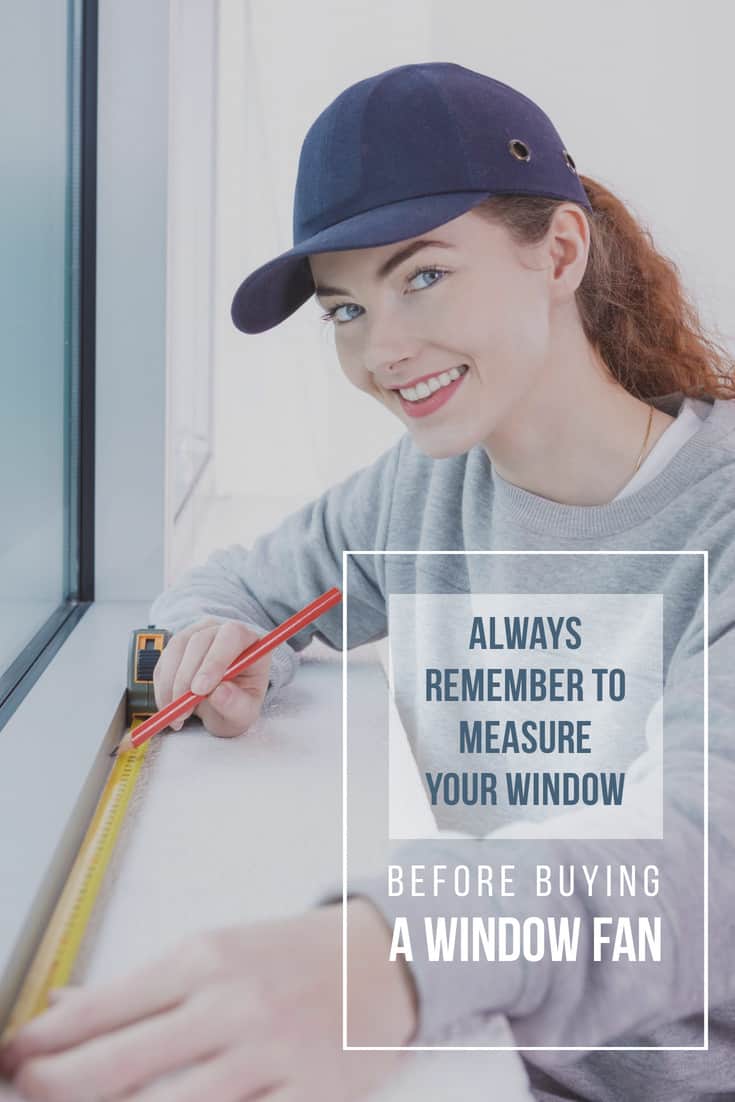 Before you purchase a window fan, think about whether you have a suitable window for the fan to go in, and match up the measurements listed on the product.
For instance, some window fans require a window which is 24-27 inches wide. Some others are more extendable to give more flexibility.
Features & Benefits
What are the key features which tend to be found in Bionaire window fans? Do these products have any specific benefits over other models?
First of all, they are thin and compact.
Bionaire fans are thin without sacrificing any of their power. This means they take up less of the window space in your home and still allow plenty of light to get in. Blocking out the light on a sunny day is not recommended, instead, reap the benefits of letting the light pour in! Many of the Bionaire fans are 25% smaller than their competitors, so don't restrict your view of outdoors as much.
Second, they're quiet.
Most of the products within the Bionaire range are pretty quiet even on the highest settings. They are often much quieter than tower fans and desk fans as the sound vibrations don't travel as easily.
Then, they are adjustable.
All of the fans within the range are adjustable to some extent, meaning you don't have to stick to the exact size of your window when buying. Instead, you can adjust the sides when you are installing so that it sits flush against the sides of your window. All of the fans have a minimum and maximum window size rather than one rigid size.
They are also backed up by impressive warranties.
A lot of Bionaire window fans and other products have a five-year warranty, so you can rest assured that your purchase is protected if you end up with a defective unit for any reason that isn't your fault.
And finally, these excellently efficient products can save up to 40% of the energy compared to many other fans.
Harnessing the air from outside the window can allow the fan to function efficiently and save on your energy bills.
Bionaire BWF0910AR-WCU Window Fan
This Bionaire twin window fan is a true rarity. The fan unit is especially designed to fit in most of the windows and to move the air effortlessly and cleanly. Its quiet yet efficient operation makes it a perfect fit for living rooms and bedrooms. Its digital thermostat makes it easy to get an eye on the room temperature. Also, the fan comes with three speed settings. It can easily be adjusted as per the user's requirement and can be controlled via a remote control as well.
Features
25.5 x 6.3 x 13.9 dimensions (inches)
Fits in double hung and single hung windows of 24-27 inch size
Three speed settings to choose from
Digital thermostat for automatic controlling
LCD display
Twin fans for extra airflow
Remotely controlled
Reversible fans
Extenders (up to 3 inches) can be used to fit it in 28-34 inch windows as well
Pros
Quiet operation
Fans can work independently
Keeps tracks of the room temperature
Programmable thermostat
Reversible air flow
Built-in extenders
Cost efficient
Has a remote control
Cons
Cannot seal its fan grills to keep the bugs out and to prevent cold winter air to come in
Cannot be used on floors or anywhere else
Somewhat difficult to clean
Conclusion
This dual window fan, manufactured by Bionaire, is truly amazing when it comes to providing clean airflow for your home.
This fan unit is designed to be used in 24-27 inches windows but it can be used in 28-34 inch windows with its 3 inch solid extenders. You also have the option of buying extra extenders to fit larger windows. This means that it will fit in almost any window.
Its independent reversible fans are a plus when it comes to programming your window fan for convenience. You can also program the thermostat to control the temperature or you can simply override it to run the fan continuously throughout the day.
Although it comes with a low price tag and lots of features, there is one thing that what might bother you. Its fan grills that cannot be sealed in any way to keep the bugs out of your room and prevent cold air to come in. However, with its lightweight and easy installation, it won't take a lot of time to uninstall it during the winter season.
Bionaire Twin Reversible Airflow Window Fan
This dual window fan comes with a programmable thermostat and an  LCD screen. With the help of the screen, you can turn your fan on or off with ease and track your room's temperature at the same time. Also, you can access its control panel and 3 speed control settings (Low, Medium and High) with the remote control. And its powerful fans comes with reversible technology which lets you use your fans either for exhausting or airflow or for both, thanks to its independently working fans.
Features
Dimensions: 25.5 x 14.1 x 6 inches
Weight: 8.4 pounds
Water proof
Remote control with 4.5 meters range
Two 8.5 inch fans
Independently working fans
Reversible fan technology (Intake, Exhaust and Exchange)
Fits in double hung, casement and verticals slider windows
Designed for 24-37 inch size windows
Built-in adjustable extenders
3 speed settings (Low, Medium and High)
Controllable thermostat with LCD display (For temperature control)
5 years warranty
Pros
Long blades for extra airflow
Powerful
Quiet
Durable
Temperature control capabilities
Extenders for custom fitting
Water resistant
Electrically reversible fans
Has a remote control
Cons
Noise at high speed
Pull lot of dust from outside
Cannot close fan seals when not in use
Conclusion
This Bionaire bw2300 twin window fan with remote control comes with a lot of features and a reasonable price.
The fan is quite powerful despite its light weight structure. Its adjustable extenders makes sure that you can fit it in windows of 24-37 inch size as well. That's not it, you can buy extra extenders for this fan unit to custom fit it in any window.
When it comes to efficient cooling, bw2300 needs no introduction. With its powerful and long blades, it's no surprise that it easily delivers strong airflow. In fact, what's surprising is its quietness.
The blades can easily be controlled via a remote control to work independently. Its fans can also be reversed to draw in the outside air or blow out the inside air.And don't forget about its thermostat that helps regulate the temperature of the room in a specific range. Its LCD screen makes it a lot easier to keep an eye on the room temperature from far away. Its water resistant motors will also free you from the worry of rain or water.
The only thing that might keep you from using this Bionaire twin window fan is its noise at high speed and no sealing option.
Bionaire Compact Window Fan
Here is our Bionaire ultra thin window fan review, in which we will present the features of the fan as well as its cons and pros.
The Bionaire compact window fan comes with an amazing technology that lets it increase air velocity to up to 40%. This is, when compared to regular fan units, is quite impressive. It means that you will be enjoying 40% extra freshness of air throughout the day. Its manual thermostat and speed control settings combined with electrically reversible fans makes it a beast in summer seasons. What's surprising is that it's not only 25% more compact than other fans but it also has built-in extenders for customized fitting as well.
Features
Dimensions: 3.4 x 25.2 x 7.7 inches
Weight: 5.1 pounds
Three speed settings control
Thermostat (Manual control)
3 fans
Reversible fan technology
Firm Fit locking extenders (built-in)
40% extra air velocity
25% extra compact
5 years warranty
Pros
Compact design
Small size
Noiseless
Extra air velocity
Exhaust and intake capabilities
Cons
No remote control
No display for room temperature
Fans are not independent
Fans aren't reversible
Conclusion
To sum it all up, this Bionaire ultra thin window fan has lots of great features and some downsides as well.
What sets it apart is its powerful combination of three fans that work flawlessly without making any noise even if they are at high speed. Even with its three fans, it's still a really compact and light weight unit. So its installation and packing requires very little or no effort at all.
Despite its small size, the Bionaire ultra thin window fan is designed to fit vertically as well as horizontally in most of the windows.
On top of that it has locking extenders that makes the task of fitting it a lot easier.
The downside here is that its fans aren't equipped with independent functionality nor can they be reversed.
If you really want to reverse the airflow then you have the option of flipping the entire fan unit which isn't a tiresome process but it might bother some of us. Its manual thermostat and no remote control can be a deal breaker for you if you aren't in favor of manually adjusting everything.
But considering its low price tag and noiseless function, the Bionaire compact window fan has proven itself to be a good all-rounder for low budget families.
We hope this Bionaire ultra thin window fan review was useful for you.
Bionaire Thin Window Fan with Electronic Thermostat
This Bionaire triple window fan is a compact fan with manual thermostat. It's a 3-blade fan that can operate at 3 different speeds. Also, its firm fitting extender screen and ability to use either in horizontal or vertical position makes it favorable to use in a wide range of window sizes. Its noiseless functionality makes it convenient to use in bedrooms and living rooms.
Features:
Dimensions: 4 1/2 x 27 1/10 x 9 1/5 inches
6.6 pounds (total shipping weight)
3-blade window fan
Can be used horizontally or vertically
3 speed settings control (Low, Medium and High)
30% extra compact in comparison to regular fans
40% extra air velocity than other fan units
Available for windows up to 37 inches big
Built-in Firm Fit" Locking Extender Screen
Electronic Controls and Thermostat
Pros
Used in either horizontal or vertical position
Quiet operation
Regulation capabilities due to thermostat
Screen expands to fit larger windows
Increased air velocity
Cons
No reverse switch
No remote control
Vibrates at high speed
Manually reversible airflow (you have to uninstall, flip and reinstall for reversible airflow)
Only one button for all functionality
High priced
Conclusion
This BWF0502E compact fan of Bionaire is an expensive product when you compare its features with its shortcomings.
It provides better cooling due to its ability of almost double air flow.
This Bionaire ultra thin window fan also has the ability to adjust in different sized windows (up to 37 inches) due to its extender screen. Its advanced less noise operation is very attracting feature for light sleepers. The striking feature of this fan is that it is designed in such a splendid way that it will provide an extra 40% increased air velocity when compared to other fan units.
When we look at its flaws, the high price is major drawback of this model. Presence of a single push button instead of remote control also made it difficult to use. If you want to change the speed of the fan you have to push the button many times which is clearly not a feasible option for people who want one touch for desired settings. BWF0502E model fans can only work in one direction so to change the direction of air flow one have to go through the cumbersome task of manually removing, turning and then reinstalling the unit again.
Final Verdict
In this Bionaire window fan review we have selected a total of 4 window fans with various great features so that you can easily choose the one that suits your requirements. Now that we have covered each and every fan unit separately, let's have a look at their performance when compared to each other.
The Best
Among these four models of Bionaire manufacturers, the Bionaire  BWF0910AR-WCU Fan is the best.
This dual window fan has digital thermostat that made it comfortable in use under different environmental temperatures.
Its reverse air flow and quiet operation features give the choice to use this fan either in kitchen or in bedroom without any second thought.
Presence of remote control and LCD display are extra qualities of this splendid model that made it a favorable choice for usage at night.
Although BWF0910AR model of Bionaire company is real gem, only caveat of this fan is its difficult cleaning procedure.
2nd Best
The Bionaire Twin Reversible Airflow Window Fan is second in the list.
This highly efficient Bionaire twin window fan can be used as exhaust fan or airflow fan or both at a same time because of ability of its fans to operate independently. The model is very durable along with the support of 5 years warranty.
Water proof technology makes it a suitable choice for the places where there are chances of rain or accidental water spillage.
Thermostat control of this excellent machine enables it to maintain the temperature of room in a desired range.
Remote control 4.5 meters range allows customers to adjust the speed without bother of going to the fan.
The down sides of this product include noise production at high speed and inability to close fan grills when is not in use.
Third Best
The Bionaire compact window fan is third on the list when compared to others in this list.
This model of Bionaire is small in size but efficient in operation.
The Bionaire ultra thin window fan is equipped with 3 fans that can operate at three speeds (low, medium and high). Due to its built-in extenders screen, it has the capability to fit in various windows sizes.
Absence of remote control and no LCD display unlike the above-mentioned models puts it on the third place. Another major drawback of this model is the fact that its fans cannot function independently.
Fourth Best 
Last but not the least is the Bionaire whole-house triple window fan which is a powerful fan that comes with three fans for extra cooling.
However, its dependent fan technology and manual air flow reversing is what made it last on the list.
Its high noise at maximum speed is a deal breaker for most people. However, if you are planning to use it in a kitchen or somewhere other than where you sleep, then it might not be a big problem for you.
So whether you want a dual window fan or you are looking for a triple window fan for extra airflow, you have everything you need to know right here.
Pick the one that meets your requirement and budget at the same time!