In this Comfort Zone CZ220 Review we go through the Specs, Pros, Cons & Overall Ratings.
Having this Comfort Zone CZ220 heater on hand will make your workplace or garage more comfortable. Heat can be distributed across a wide area. The fan-forced design spreads heat more evenly throughout your home while the convenient dual knobs enable you to easily adjust the temperature.
Comparison Table
Title
Comfort Zone CZ220BK-EU Ceiling-Mounted Hard-Wired 240V 5,000-Watt Fan-Forced Industrial Shop and...
Comfort Zone CZ220 5,000-Watt, 240v Hard Wired Fan-Forced Ceiling Mount Heater with Dual Knob...
AKUSAKO Garage Heater with Remote - Digital Fan-forced Ceiling Mount Heater with Electric Control,...
BEYOND BREEZE Electric Garage Heater, 7500W Ceiling Mount Heater with Full-Function Remote, 240-Volt...
Comfort Zone CZ220 has built-in sensors that shut off the unit automatically when it overheats, and a power indicator light lets you know when it is turned on. This is a great safety feature that gives you a high level of comfort.
The Comfort Zone CZ220 external thermostat lets you set the temperature to the perfect level and to turn on and off the ceiling mount heater quickly. The fan-forced heater can be hardwired and mounted to the ceiling, saving valuable floor space in a warehouse, garage, or storage facility.
Moreover, in this Comfort Zone CZ220 Review, we will go through the Comfort Zone CZ220 specs, pros, cons, and overall rating so you can decide whether it suits your needs.
Comfort Zone CZ220 Review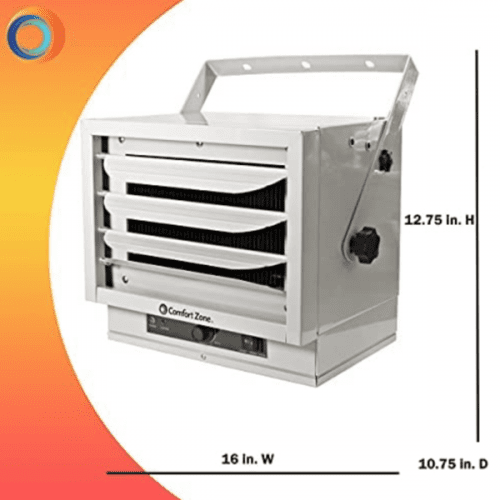 CLICK HERE to check it out on Amazon
Main Features
Item Dimensions (LxWxH): 17 x 14 x 14 inches
Weight: 16 pounds
Power Source: Hard wired 208-240V connection
Heating Method: Forced Air
Three heat levels up to 5000w (5000/4000/3000 watts)
Made from heavy-gauge steel
Adjustable thermostat
Power and Caution indicator lights
17,066 BTUs
Adjustable ceiling mounting bracket
Removable front grille for easy cleaning
Pros
Excellent value for money
Affordable
Suitable for both residential and commercial applications
Durable steel housing design
Convenient dial controls
Smart safety features
An excellent heater that operates quietly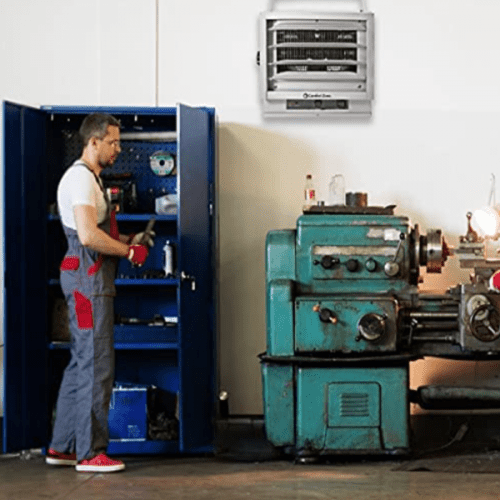 Cons
For larger workshops, it is not powerful enough
Overall
A good overall model both in terms of quality and efficiency. Built by World And Main, the Comfort Zone CZ220 comes with safety features to prevent overheating and is reasonably priced. The powerful 5,000-Watt garage heater warms the largest areas at home, and it's suitable for commercial applications as well.
The commercial heater is designed to work well in harsh, poorly insulated environments, as it has a rugged steel body that can endure sudden temperature changes without a problem.
Ending, if that is what you need and you are happy with what the heater has to offer, then the Comfort Zone CZ220 heater is a great purchase!
Overall Rating – 4.4 Stars
At Whatfans.com, we believe in providing honest reviews, so let us know in the comments if you enjoyed it and share your valuable feedback with us.
Check Out WhatFans Other Articles & Reviews below –
5 Best Fan Heater Combo Reviews
Alorair Sentinel Basement & Crawl Space Dehumidifier HD55 Review
How Much Electricity Does A Space Heater Use?
Dyson HP02 Pure Hot and Cool Link Reviews
Heat Storm HS 1500 PHX Wifi Review
Last update on 2023-02-02 at 17:40 / Affiliate links / Images from Amazon Product Advertising API