Dyson continually introduce eye catching household products that spearhead the innovative market. Every year, Dyson establishes innovative household appliances by keeping the customer's demand in mind. Today, Dyson Air Multiplier AM06 Table Fan has even more innovation compared to its previous edition. 
Dyson fans have an attractive look that catches your attention, and convinces you to buy. Here, we give you the best advice by checking its features, pros and cons so that you can make an educated decision before purchasing. 
Main features of Dyson Air Multiplier AM06 
Table Fan  
Dyson Air Multiplier AM06 Table Fan is equipped with an amplifier ring and an aerodynamic ramp that expels air from the amplified flow. Dyson's bladeless fan is a fully protected and very safe fan due to the propeller placed in the base, dismissing high air pressure uniformly. 
According to the Dyson manufacturers, this innovation allows a continuous airflow with full power, unlike other fans equipped with standard blades.The ring shape Dyson air multiplier has many features like:
Weight is 1.8 kg

Power 26 Watts

Dyson fan AM06 maximum airflow is about 370 CFM

Noise level 56 DB

2 meters' cable length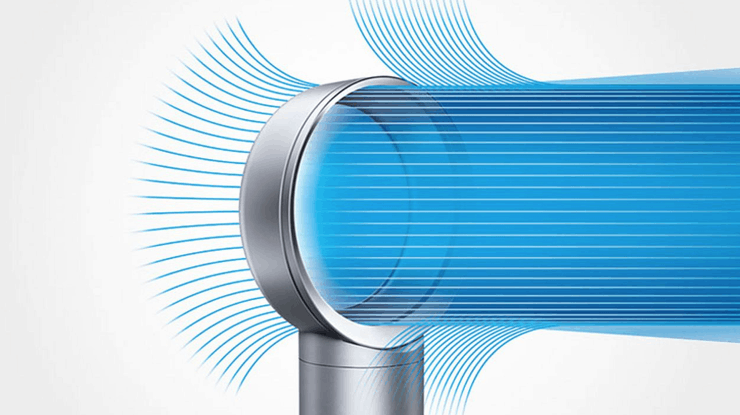 Pros: 
Best innovative technology 

Comes with attractive design 

Remote control facility

Significant functions facility 

Quite easy to use

Offer maximum airflow

Comes in two primary colors (silver and white)

No fast-spinning blades.
Cons: 
Relatively expensive in price 

May need proper guidelines while using, can be a little confusing at the beginning.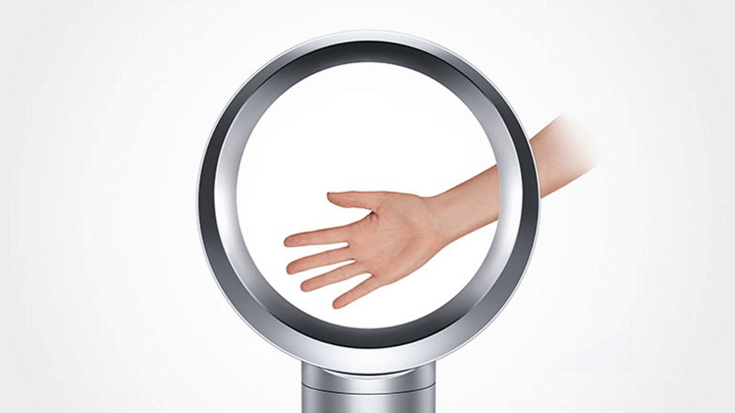 Overall Rating of Dyson Air Multiplier AM06 Table Fan
Ease of Use:
The Dyson AM06 is relatively easy to use because it offers remote control and manual features to operate. A remote control allows the device's oscillation from left to right or sets the timing 15-minutes to 9-hours working. What's more, the Dyson bladeless fan also comes with a small magnetic infrared remote control. 
Ergonomics and Unique Function:
Dyson AM06 allows a user to activate or deactivate the fan, set the timer, ring oscillation, and modulate the ventilation power from 1 to 10. The best part of choosing a Dyson fan is it's smooth and surprisingly quiet operation. It can quickly absorb your sweat on hot days or after exercising. 
Sound Level
This second generation of Dyson fans finally solves the noise problem of its predecessor AM01, which was catastrophic. Dyson Air Multiplier AM06 has zero noise issues and comes with two years of warranty, so if you face any trouble, directly consult the company and they will help you out. 
Wrapping Up: The Dyson Cool AM06 table fan gains every customer's attention because of its significant impressive appearance. Dyson fans are more pleasant and easy to use. You can buy it without any fear of damages or injuring anyone due to the protected propeller. 
The overall rating is 4.6 Stars.
We hope you have enjoyed our Dyson Air Multiplier AM06 Table Fan Review. At Whatfans.com, we believe in providing honest reviews, so let us know in the comments if you enjoyed it and share your valuable feedback with us.
Check Out WhatFans Other Articles & Reviews below –
Last update on 2023-02-02 at 17:40 / Affiliate links / Images from Amazon Product Advertising API