Pedestal fans have been around for a long time, but some brands, like Dyson, are improving pedestal fans all the time by adding modern features.
A friend of mine recently approached me looking for advice as to whether a Dyson pedestal fan was worth buying, or if the brand is just taking advantage of their notoriety to sell more products.
In this Dyson pedestal fan review, I've shared what I found out about the products. Fortunately, there are plenty of quality reasons the Dyson range is growing so quickly.
Comparison Table
Dyson Powerful Large Air Multiplier Pedestal Fan, AM08 Model, White/Silver Color, Adjustable Height...
Dyson AM03 Pedestal Fan, Silver
Presenting the Dyson company
Dyson is not a brand that needs a huge amount of introduction.
A lot of people have heard of their cleverly-built vacuum cleaners and the bladeless technology they've introduced to fans. For a more thorough overview of the brand visit our bladeless fan review.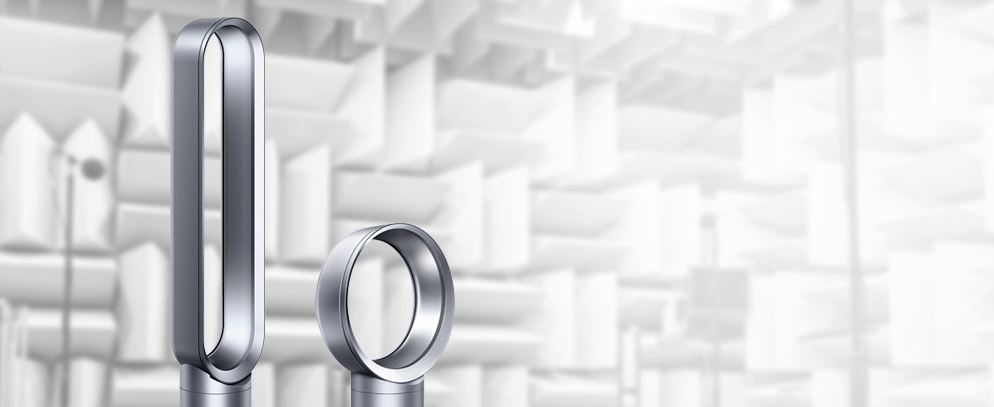 Image credit: dyson.com.au
Presenting Dyson pedestal fans
Dyson pedestal fans are a part of their bladeless range of fans, which use 'air multiplying' technology and are the sister products of the Dyson tower and desk fans.
These are sturdy and durable products with a two-year warranty, which shows the manufacturer's faith in their quality. Dyson fans are well-made and suitable for those looking for an elite product, but they are certainly not at the cheap end of the market.
It is important to think about your needs before making a purchase and to make sure these needs match up with your budget. If you are looking for an affordable solution for use on the odd occasion, there may be better value out there.
But, if you need a lot of top features in a fan that can be used on a daily basis, then a more elite product, such as a Dyson pedestal fan, might be right for you.
The bladeless capability of the model is one of the biggest reasons Dyson pedestal fans are more expensive.  This guide explains how the bladeless technology works and clarifies why it is pricier than the alternative.
However, this feature has a lot of benefits when it comes to noise, energy-efficiency, and safety. A bladeless model means you can rest easy that pets and children aren't ever at risk of injury from your fan.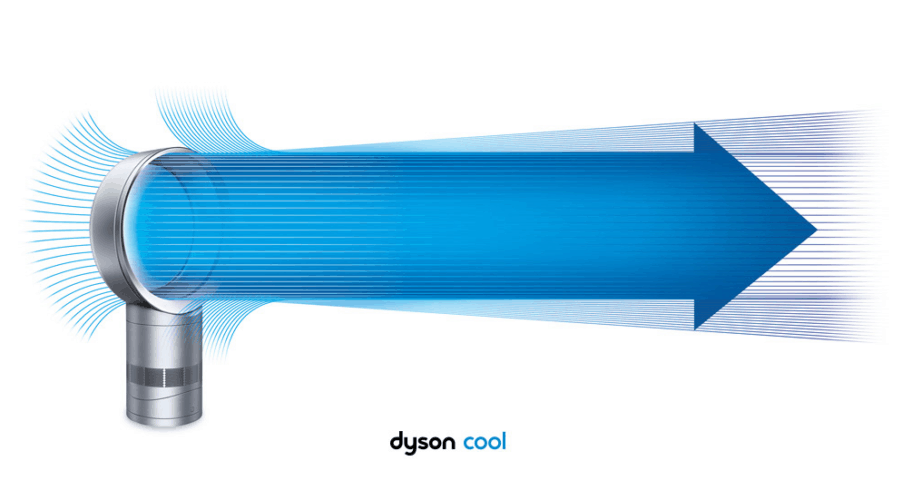 Image credit: dyson.com.au
Features & Benefits
Bladeless technology is the benefit that attracts many people to Dyson fans and it is what the brand is known for. This isn't essential for everyone, but the technology means an added level of safety.
Pedestal fans can also be quite loud, as the vibrations and rotations can travel through your room. Bladeless fans are quieter, due to the fact that they don't have spinning blades.
If you've ever cleaned a fan with blades, you'll immediately know that a bladeless fan is going to be much easier to clean. You can simply wipe down your Dyson pedestal fan and it will take a fraction of the time as cleaning a bladed fan. This official video from Dyson will show you how simple the cleaning process is.
Most pedestal fans offer only three or so settings to adjust its speed. But some Dyson pedestal fans have up to 10 different settings, meaning you can always find a comfortable temperature.
Dyson's range of pedestal fans offers rotation and height adjustment. The fact that it can adjust in terms of height means you can set the pedestal fan to the level you want to get the perfect airflow in your room.
For ease of use and convenience, all Dyson pedestal fans come with a remote control. This can be both a pro and a con. While it is great to have the option of a remote, some Dyson fans, such as the Air Multiplier AM08, can't be operated without it. This means if you misplace the remote, you have no choice but to find it if you want to make adjustments!
The fans in the Dyson pedestal range are also very lightweight and thin, meaning they are easy to unplug and move to a different room or part of a room. This can mean you don't have to invest in multiple fans, for instance, and you can move it from your living space to your bedroom when it is time to sleep.
In this review we will be reviewing two Dyson fans. Both of these products are blade-less fans so if you came here looking for a reasonable yet powerful fan unit then you are at the right place. Let's have a look at both of these Dyson fans and compare them to see which one is better for you.
This fan unit is equipped with lots of amazing features. It is a bladeless fan that is designed to deliver powerful airflow by sucking the air from its surroundings. It also comes with a curved remote control so you can easily adjust its speed or set the timer for convenient cooling. The remote control is magnetized which allows users to store it neatly on the unit. You can also adjust its height and turn on oscillating function for increased area coverage.
Dyson AM08 pedestal fan
Features
Bladeless
6.6 x 23.1 x 21.1 inches dimension
Energy efficient
Shutdown timer (ranging from 15 minutes to 9 hours)
35% quieter airflow function
Air multiplier technology
10 airflow settings to choose from
Magnetized remote control
2 years warranty for parts and labor
Pros
Saves energy
Adjustable height
Reduced noise and vibrations
Powerful
No air chopping
Elegant design
Easy to clean
Portable
Cons
High priced
Somewhat noisy
Can't be operated without a remote control
Conclusion
This pedestal fan is an amazing addition in Dyson bladeless fan series. Its flawless Air Multiplier technology makes sure that you are always getting high velocity airflow in your room. What's amazing is its quiet operation, its streamlined air channels make it almost 35% quieter than its predecessor models.
The oscillation function of Dyson AM08 pedestal fan is really impressive as it can provide airflow even in extremely large rooms with reduced choppy air and its adjustable height makes it even easier to cool the entire room. And, of course, its compact design makes the task of moving and packing of this fan unit really easy. Although this unit is designed to reduce noise and vibrations, many have complaints about its vibrations (on oscillation) and noise. Plus, the price of this product is quite high.
CLICK HERE TO CHECK IT OUT ON amazon
Dyson AM03 pedestal fan
Dyson AM03 pedestal fan, predecessor of AM08, is specially designed to provide cooling uninterrupted airflow. This is achieved by Dyson's bladeless and Air Multiplier technology. The idea behind it is to make use of the air surrounding the fan, amplify it and generate a smooth airflow. This fan unit comes with a remote control as well which, if, combined with its oscillation and speed control settings makes it perfect for night time air blowing.
Features
No blades
9.5 pounds
6.6 x 21.1 x 23.2 product dimension (in inches)
Adjustable height
Air multiplier functionality
Up to 18 times amplification of air
360 degree rotation for perfect oscillation
Speed control dimmer switch
Remote controlled
2 years labor and parts warranty
Pros
Quiet bladeless fan
No buffeting
Wide area airflow coverage
Easy to clean
Safe for children (bladeless)
Cons
Expensive
Tubes (connecting the ring with the base) are quite fragile
Oscillation makes noise and vibrations
Remarks
Dyson AM03 pedestal fan is a great companion for summer season. It is easy to clean and move, and its children friendly. This fan unit isn't just about the looks though, its incredible Air Multiplying technology makes sure that its circulating all the air in the room. Its adjustable height, 360 degree rotation and oscillation makes it a perfect fit for living rooms as well.
Also, its speed control settings and efficient remote control makes it really comfortable to use no matter where you are. But nothing is perfect in this world. This pedestal fan is known to create noticeable noise when switched at high settings. Plus, its remote control sensor is at the base of the unit so you might find it difficult to control the functionality if you are on a high place. As for its price, although its high but you will see where all your money went when you will have a comfortable summer.
Verdict
Both of these Dyson fans are great at what they do. With roughly the same size, they are equipped with almost the same technology as well. Although they share lots of similarities but they also have noticeable differences as well.
Although both of these fan units come with a noise reducing mechanism, they do make little bit of noise when switched to their highest speeds. But if you are looking for a quiet pedestal fan then AM08 should be the one for you. It's a more recent version and is proven to be 35% quieter than the AM03 fan. AM08 is also in the front row in terms of core functionality. It not only beats its rival in terms of air multiplication, airflow and powerful oscillation but it does it using a lot less energy than its predecessor. Its shut down timer and up to 10 speed control settings makes it suitable for night tie cooling as well.
Dyson AM03 pedestal fan – Although it is equipped with less functionality, this doesn't mean that it isn't efficient at what's it's designed for. Its Air Multiplier makes sure that the air is amplified at least 18 times which, without a doubt, makes it quite powerful.  Also, it is known to for its smooth and uninterrupted airflow. This also means that you won't be bothered by extremely loud noises.
So which one is the best bladeless fan among these two?
The answer is clearly Dyson AM08 pedestal fan.
But this doesn't mean that you should blindly go for it. It comes with a heavy price too so if your short on budget or you just simply want a low powered fan unit then just simply go for AM03. The choice is completely yours.
Dyson AM08 pedestal fan
CLICK HERE TO CHECK IT OUT ON amazon
Did you like our Dyson pedestal fan review? Let us know in the comments!
Last update on 2023-02-02 at 17:40 / Affiliate links / Images from Amazon Product Advertising API