In this Econohome wall Mount Space Heater 400w heater review, we go through the Specs, Pros, Cons & Overall Ratings.
Unlike other conventional space heaters, the EconoHome wall mount convective panel heater circulates air throughout a room and helps reduce energy bills by up to 50%. This heater consumes less than 1/3 of the amount of electricity as compared to conventional space heaters. As a result, you will save a great deal on your energy bills while maintaining a room with constant comfort and warmth.
Comparison Table
Title
EconoHome Wall Mount Space Heater Panel - with Thermostat - 400 Watt Convection Heater - Ideal for...
This Econohome wall mount heater comes with a heat reflector that reduces the heat loss through the wall. All of the components used in this heater are of high quality. It complies with all international safety standards. 
Econohome Wall Mount Space Heater 400w Review
A constant temperature is maintained by this electric wall heater. To make this heater more efficient, It is recommended to buy a HEAT GUARD accessory (sold separately). If there is a concern about children or pets coming into contact with the heater, this accessory should be utilized. The Heat-Guard provides the perfect barrier to prevent the surface area from getting too hot and to increase convection currents, making the heater a great addition to any home, whether it's a bedroom, bathroom, or any other room.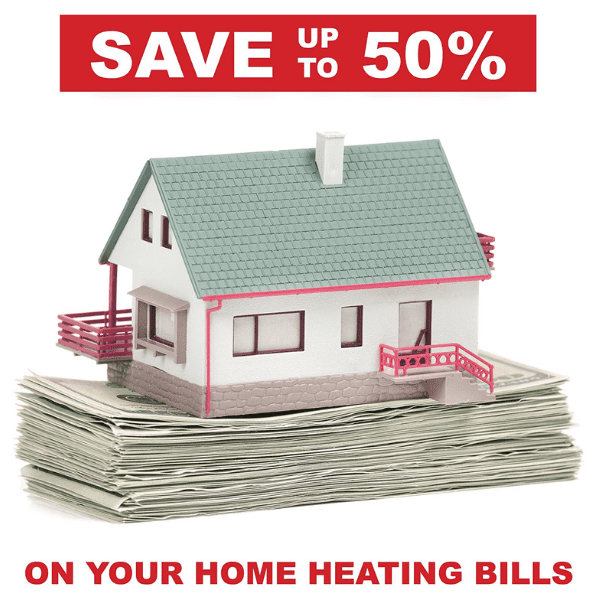 This heater is made from a superior calcium silicate material which is extremely durable. It also offers Overheat protection that allows you to leave it unattended. 
Econo heat panel heater installation is super easy on any wall (installation hardware is included). Those with asthma or dust allergies can enjoy the warmth without irritation since the air will not dry out or dust will not circulate. 
Econo glass panel heater instructions
The following instructions must be followed;
Never place the heater in an area where it could fall into a bathtub or other water container.

You should thoroughly inspect the wall before drilling into it to ensure there is no wiring or pipes embedded in the wall.

It is not safe to mount the heater right below a power outlet, or it will overheat the outlet.

Make sure the heater is turned off and unplugged from the wall outlet.

The front surface of the heater should be cleaned with a soft, damp cloth to remove any marks.
Listed below are some of the Econohome wall mount heater's features, pros, and cons that will assist you in deciding whether it's the right choice for you. 
CLICK HERE to check it out on Amazon
Main features
Product Dimensions: 25 x 2 x 25 inches

Item Weight: 17.8 pounds

Wattage: 400W

Volts: 120V

Temperature range: 41-86 °F

Heats Up to 120 Sq. Ft. & 90 sq. ft. in freezing climates

cETL Approved

RoHS compliant

Power Source: Corded Electric

Heating Method: Convection

Cord Length: 1.8 meters

BTU: 1364

Thermostat (Included)

3 Year Manufacturer Warranty
Pros
Triple insulation for safety purposes

Easy to install

Affordable

Energy-efficient

Safe for pets & kids

Efficient for heating small rooms
Cons
Low heat output for larger rooms

It smells like burning rubber or plastic (only when it is new), but it will go away after some time.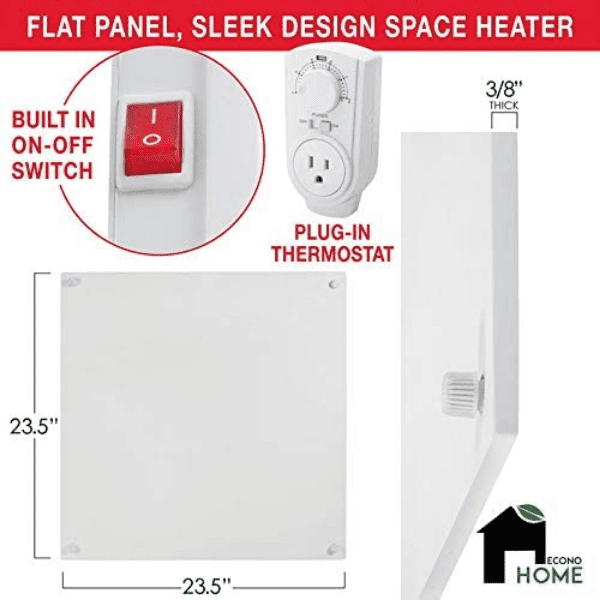 Overall
EconoHome wall-mounted panel heaters have low running costs and can be used for extended periods. You can also save money by heating only the room you want without heating the entire house! The product is designed to optimize efficiency and safety and to minimize the risk that it will burst or crack when heated. 
In conclusion, the Econohome wall mount heater is a reasonable & energy-efficient unit that tends to meet all your heating needs.
The Overall Rating is 3.9 Stars
At Whatfans.com our reviews are always honest, so please let us know your thoughts by commenting below.
Check Out WhatFans Other Articles & Reviews below –
5 Best Fan Heater Combo Reviews
Heat Storm HS 1500 PHX Wifi Review
Biogreen Palma Heater 1500w Review
How Much Electricity Does A Space Heater Use?
Tips For Heating A House Without Electricity
Last update on 2023-02-02 at 17:40 / Affiliate links / Images from Amazon Product Advertising API