Looking to stay cool this summer?
Are you looking for inexpensive and effective ways to cool your home? Looking for the best box fan for sleeping? Have you heard that alternatives to air conditioning units can be effective? Box fans may be simple, but they can be a good way to get the air in your room moving. They can give you a bit of comfort during hot conditions, especially when used in a window. There are specific ways to get the most out of your box fan in a window, so this post is dedicated to showing you how to use a box fan in a window, getting the maximum effect possible. I was pretty impressed at the impact of a box fan in a window and I wanted to share this info with others, to help people stay cool, comfortable, and healthy in hotter climates.
Box fans in windows increase airflow and decrease temperature!
Here's A List Of The Best Box Fans This Year:
What you will need to follow this tutorial
A box fan or fans – One will have some benefit, but I recommend having more than one box fan set up in order to maximize the effects.
A window – A suitable window should be identified.
A way to secure the fan in place – This could be as simple as ensuring it fits the window properly.
Step by step instructions
Choose the right fan (and number of fans)
There are a number of different box fans out there. Most are pretty basic in their design and are made to be simple and affordable. That said, there are some models which are far superior and more hard-wearing than their competitors. I've reviewed a variety of box fans to help you make the right choice. For build quality, multiple speed settings, and ease-of-use, I like Lasko box fans. The video below shows some of the benefits of their Weather-Shield fan, including its volume, as Lasko fans aren't overly noisy. This fan also stands up to tough weather conditions, which is vital if you're using it in a window. I recommend using two box fans, at least. Though one can offer some benefit, this post explains how two can be more efficient and take advantage of the evening outdoor air temperature.
2. Understand airflow
Increased airflow is definitely your goal when it comes to using a box fan in a window. Ultimately, as this information from Lasko explains, you should be looking to create more airflow and circulate fresh air into your home quicker. This is something that can be achieved by using a box fan, which has the capacity to either draw outside air into a room or pull the hot inside air out. The video below explains this phenomenon and how it can be used to your advantage, depending on where you are in the world. The best method is to draw fresh, cooler air in and push out warm, stale air simultaneously by using multiple box fans.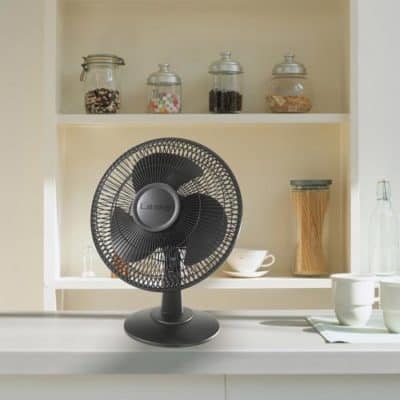 Image credit: lasko.com
3. Consider placement
The placement of your window box fan is pretty self-explanatory, right? Put it in a window! Well, this is correct, but some windows are more suitable than others. Your window does need to be suitable for mounting a fan (more on that shortly), but it's more about the temperature in and around your window. This is especially the case if you plan to use a few box fans in multiple windows and there are smart ways to do this to ensure you get the most out of them. The best placement for a fan that blows inward is on a shaded side of the house, which means the air outside is likely to be cooler. The fan blowing air out should be on the sunnier side of the house. This creates a cross breeze, which can work fantastically. If you plan to use box fans on multiple levels of your home, always have the fans on the higher floors drawing the warm air out, while lower level fans draw air in. Heat will always rise, so this advice is the same no matter where you live.
4. Mount your fan securely
Using a window fan has one major advantage over using a box fan in a window. They are designed to be used in a window and mounted and they usually have adjustable sides to latch on to your window frame. Mounting your box fan is just a case of finding a way to ensure it won't move. If you are clever about the size you buy and match this up to your window, you shouldn't have too many issues. If the area you live in isn't prone to strong wind, you may just be able to place your box fan in your window. Alternatively, people have come up with some clever ways to keep their box fan in place, using string or even an old hanger, as explained in the video below.
5. Be smart about the use of your box fan
The multiple ways to use a box fan means that you should be smart about how and when to use it. Pay attention to when the temperature drops outside, when it may make more sense to position the fan to pull that cool air in. This article explains more about this and when it could be time to switch the positioning of your fan. Having multiple box fans will give you the most control over the airflow. Experiment with the climate where you live and see what is most comfortable. If you use a box fan, they can be a much cheaper alternative to other cooling methods.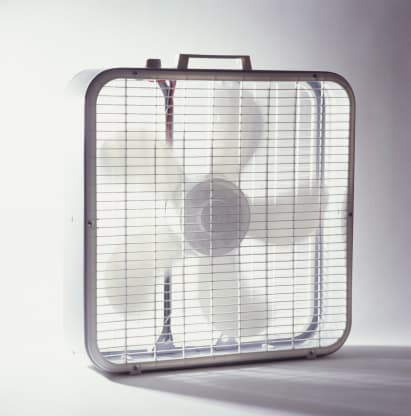 Image credit: hunker.com
FAQs
Which way should I position my window fan?
Ideally, you should be able to switch the way your fan is facing, depending on the time of day and the air temperature outside. If it is hot and humid inside, face the fan out to push the warm air outside. If it is cool outside and you want to draw this air in, face the airflow inwards.
What is the best way to use a box fan?
Box fans should be used to complement your other cooling methods. Using more than one box fan will let you get the most out of them, as you can draw cooler air in and push hot air out, simultaneously. The way your box fans face should vary, depending on the time of day and outdoor temperature.
Do box fans cool a room?
Box fans are a good way to cool a room, especially if it is cool outside the room. They aren't a total replacement for an air conditioner, but they do a good job of making you feel cool and bringing in fresh air. The temperature itself may not drop, but this fresher air can help us perspire more and feel more comfortable.
How to use a box fan in a window? Final words
Did you enjoy this how-to guide? People shouldn't have to spend a lot to cool their home, so I wanted to share the benefits of box fans and information on how to use a box fan in a window. If you enjoyed this post, feel free to share it with your friends who may also enjoy it, or leave a comment below.
Box fans we recommend on amazon-
Genesis Box Fan
20 Inch
Carry Handle
3 Settings
3 Star Energy Efficient
Durable & Lightweight
Product Review – 4.6 Stars Price – Around $40
CLICK HERE TO CHECK IT OUT ON amazon
Lasko Air Circulating Box Fan
20 Inch
Carry Handle
3 Quiet Speeds
2 Year Warranty
Good quality & one of the cheapest box fans
Product Review – 4.0 Stars Price – Around $30
CLICK HERE TO CHECK IT OUT ON amazon
Small Box Fan for Window – Elanket Box Window Table Cooling Fan 
10 Inch
Plug In Portable Fan
3 Speeds
12 Months Warranty
Product Review – 4.2 Stars Price – Around $30