In this article, we will discuss; How to put a fan in the window.
A window fan is an inexpensive, environmentally friendly method of cooling your home. You can use these fans to effectively cool your home on days when it is hot but cool and dry at night, as well as during chilly weather. As a result, you can lower your electric bill and benefit the environment by using the fans instead of the air conditioner.
Comparison Table
Title
Bionaire Window Fan with Twin 8.5-Inch Reversible Airflow Blades and Remote Control, White
Holmes Dual 8" Blade Twin Window Fan with Manual Controls, 3 Speed Settings, White
Genesis Twin Fan High Velocity Reversible AirFlow Fan, LED Indicator Lights Adjustable Thermostat &...
Vornado TRANSOM Window Fan with 4 Speeds, Remote Control, Reversible Exhaust Mode, Weather Resistant...
Before we tackle the subject of how to put in a window fan, let's take a moment to examine the reasons for installing one.
Why Should You Install a Window Fan?
In general, people choose this type of air circulator because it can save space. Think about pedestal fans. In addition to the stand taking up some space on the floor, the head is also quite large. These pedestal fans also require extra space to oscillate, and it might make an annoying click every time it turns. On the other hand, a window fan is barely noticeable and cannot be tipped over. The following are other reasons why you should install a window fan:
1. Lower electricity costs: It's no secret that fans are cheaper than air conditioners. By choosing to use your central AC only half as much as you were using it before, and replacing it with a window fan at night when the outside air is cooler, you can significantly reduce your energy costs.
Check out our article – How Much Electricity Does a Fan Use? Here's How You Can Find It Out
2. Setting the Right Temperature: There are many units that come with a thermostat, so you can set the temperature you want and let the device work until it reaches that temperature. It's just like having an air conditioner but at a much lower cost.
3. Semi-Portable: These units do not become a permanent part of the room once installed. They can be called semi-portable. The reason is that it is easy to remove the window fan for maintenance reasons and you can even take it with you if you are traveling. In addition, the window fan is more compact than a pedestal fan, so it can be more easily packed and stored when traveling.
How To Put A Fan In A Window: (For Double Hung/Single Hung Window)
In this step-by-step guide, you will learn how to install a window fan on a Double Hung/Single Hung window.
Step 1- Place the unit in the window
Take your newly-purchased unit out of its packaging, open the window, and put it on your window sill. Ensure the unit is balanced. The next thing to do is to lower the top portion of the window so that it's firmly pressed against the top of the fan. If you do this, you'll prevent the device from slipping out of position and falling into your home or down outside. In case your windows open sideways and not vertically, open the window wide enough so that the fan can fit. Or you'll need to build a wooden frame that fits in the window and also accommodates your fan. As soon as the window is closed, your device will remain between the sliding window panes and the wall.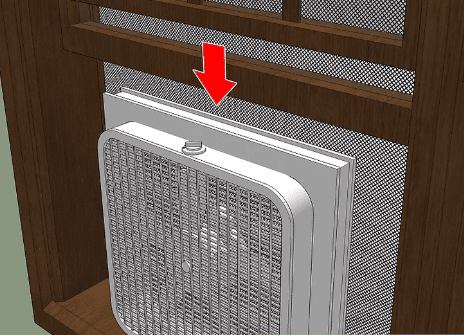 Credit: WikiHow
Step 2- Cover the gaps
Fill the remaining space (if any) between the unit and the window frame with the extender panels. By doing so, you will keep insects at bay and can even prevent dust from accumulating inside.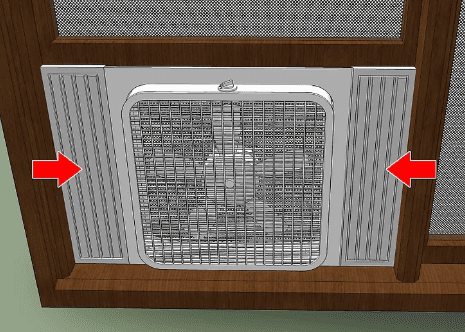 Credit: WikiHow
Check Out This Great Vinyl Side Panel On Amazon
However, this is only a temporary adjustment. Consider building a wooden frame that can fit perfectly into the window if you plan to keep it every summer. Otherwise, extender panels will eventually get damaged, and you will end up with mosquitoes and flies in the room.
Step 3- Test the unit
When the unit has been plugged in, switch it on. Choose the desired speed setting. Make sure to let the unit run for at least an hour and look for any of the following possible issues:
The unit vibrates and is shaky – In order to resolve this issue, you should unplug the device and try to reposition it.

The unit is bringing bad smells inside – There may be a source of bad smells near the window. Check the area near the window, you might be able to resolve this issue.
How to install a window fan in a casement window?
You must now be wondering how to put a fan in a casement window.
The installation process of casement windows is not much different from that of double-hung windows. The fan in a double or single-hung window is placed horizontally. While for a casement window; the fan should be positioned vertically (as shown in the picture below) with gaps filled with the extender panels to prevent insects from entering.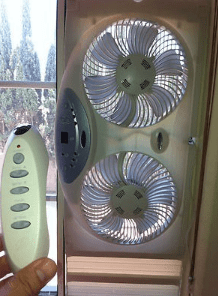 Credit: WorthPoint
Safety Tips
Here are a few safety tips to keep in mind when using a window fan:
Use your fan wisely. Don't overwork it, especially for uses it wasn't intended for.

When using a fan, make sure that it is intact, and that it is installed properly.

Front and back gratings on a fan are often wide enough to allow a child's finger to pass through. So educate your children and keep an eye on them whenever you have it running.
Check out our article – 60+ Amazing Tips About How To Make Your House Cool Without AC Ultimate Guide
Check Out This Video On Youtube That Explains How To Install The Bionaire Window Fan
FAQ's
1- How to install a window fan vertically?
You can install window fans vertically or horizontally. It depends on your window. You should place your fan horizontally if your window is double or single-hung. And if you have a casement window; the fan should be positioned vertically with gaps filled with the extender panels to prevent insects from entering. Notably, if you are installing your device vertically, please note that the internal adjustable extender panel is to be placed on top of the window fan and never at the bottom.
2- Are window fans actually helpful?
Yes. installing and using a window fan in your home can be a fantastic way to save money while keeping the air in your home fresh and comfortable. It is less expensive than air conditioning and helps circulate cooler air.
3- How to install a Holmes window fan?
Here is a YouTube video that explains the installation procedure of the Holmes window fan:
Final Thoughts
Compared to air conditioners and other types of fans, window fans are easier to maintain, easier to install, and more cost-effective. It is convenient to install it alone, but if you have someone assist you, the process will be more efficient. Moreover, it's a good idea to consider purchasing this device with a thermostat because it regulates the temperature, i.e., turns on or off the fan once the temperature reaches your desired settings.
Thanks for reading our article; How To Put A Fan In The Window – Step By Step Guide. We hope following this guide will make installing your device a lot easier.
Best Deals on Amazon
Holmes Dual Blade Manual Window Fan
Comfort Zone Reversible Twin Window Fan
Air King 9155 Window Fan
Check Out
WhatFans
Other Articles & Reviews below –
Box Fan Reviews: Find The Best Fans For Your Needs
How Much Electricity Does a Bathroom Fan Use?
Lasko Window Fan Review: How To Find The Best Fan For Your Window
Best Tower Fan Reviews: 5 Tower Fans to Check Out This Year
Last update on 2023-02-02 at 17:40 / Affiliate links / Images from Amazon Product Advertising API