Here's a guide that will help you to understand how to use a humidifier when sick.
Humidifiers are devices that increase humidity (moisture) in a particular place or an entire building. Home users typically use point-of-use humidifiers for humidification of a single room, while whole-house humidifiers, which are connected to the HVAC system, can provide humidity to the entire house.
For a comfortable and healthy environment, it is important to maintain the right degree of humidity in any space. Humidity should neither be too high nor too low. This can be achieved by using the best humidifier for your home.
Comparison Table
Title
Elechomes Humidifiers for Bedroom (6L), Ultra-Quiet Warm and Cool Mist Humidifiers for Home, Baby...
LEVOIT Classic300S Ultrasonic Smart Top Fill Humidifier, Extra Large 6L Tank for Whole Family, APP &...
HoMedics Humidifiers for Bedroom, Home, Office, and Plants. Cool Mist Ultrasonic Humidifier for...
Title
Elechomes Humidifiers for Bedroom (6L), Ultra-Quiet Warm and Cool Mist Humidifiers for Home, Baby...
Title
LEVOIT Classic300S Ultrasonic Smart Top Fill Humidifier, Extra Large 6L Tank for Whole Family, APP &...
Ratika Gupta, an allergist at ENT and Allergy Associates in Brooklyn, says that indoor allergens can cause a host of allergy symptoms, from sneezing to itchy eyes to asthma-like symptoms. The symptoms may be worse in the winter when we tend to stay indoors more, says Dr. Gupta. She further explains that humidifiers keep nasal passages moisturized so that they won't feel dry. Furthermore, studies have shown that moderate humidity levels may decrease airborne pathogens, thus reducing the chances of catching an illness.
How to use a humidifier when sick?
You may ask how to use a humidifier when sick if you are a first-time humidifier user or if you have had a bad experience with it in the past. In order to avoid any inconveniences and to make it more beneficial, it is important to know how to use a humidifier properly.
Make sure to follow the manufacturer's instructions when it comes to keeping humidifiers free of mold and bacteria. Here's how to use a humidifier properly:
Use distilled water.

Minerals in tap water can cause deposits to build up in your humidifier, which promotes bacterial growth. So, it is recommended to use demineralized or distilled water to prevent the formation of mineral deposits in the machine and to prevent the dispersion of minerals into the air. The humidifier should also be changed as frequently as possible.

Clean humidifiers every three days.

Disconnect humidifiers before cleaning. Then, using a 3% hydrogen peroxide solution, available at pharmacies, clean off mineral deposits and residue from the tank and other parts of the humidifier.

Regularly replace humidifier filters.

Filters should be changed at least as frequently as the manufacturer recommends – and more frequently if they're dirty.

Make sure the area around humidifiers is dry.

You should turn down a humidifier or reduce the frequency of its use if you notice that the area around it is wet, such as carpets, drapes, or tablecloths. Therefore, keep the area around humidifiers dry at all times.

Consider replacing old humidifiers.

The lifespan of a humidifier can vary from two to five years, depending on the brand and type, as well as how well you maintain it. The humidifier must be replaced immediately if it is old or if the accumulated deposits are hard or impossible to remove.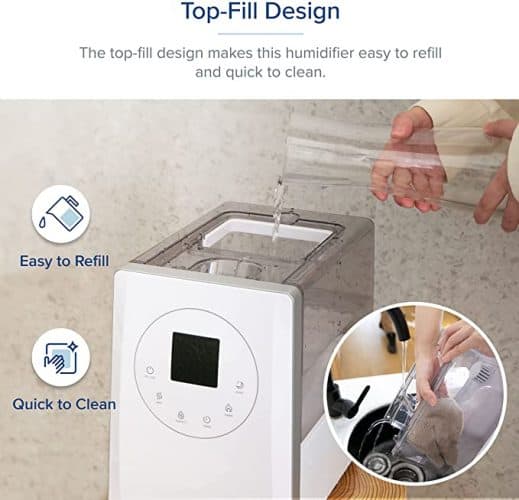 How does a humidifier help when sick

?
You might be wondering Do humidifiers help when sick? Fortunately, they do. In colder months, when dry air dries out lungs, noses, and lips, a humidifier is most beneficial. Humidifiers provide a number of benefits for your health or for your entire household, including:
Preventing influenza:

A

study

reported that humidifiers can help reduce the risk of getting the flu. In tests in which researchers added the influenza virus to the air with a simulated cough, researchers found humidity levels above 40% rapidly deactivated the virus particles, making them much less infectious. From this research, it was concluded that

airborne viruses

will be significantly less infectious if the indoor relative humidity is kept above 40%.

Making coughing more productive:

An unproductive cough can be caused by dry air. When humidity is added to the air through humidifiers, more moisture can be drawn into the airways, making coughing more productive. Productive coughing releases stuck or sticky phlegm.

Reduces snores:

Bringing more moisture into the air can reduce snoring. Dry air can make it difficult for a person's airways to remain adequately lubricated, which can lead to snoring. Run a humidifier at night to add humidity to the air. This may help reduce some symptoms.

Moisturizes the skin and hair:

As the weather gets colder, some people begin to notice their skin, lips, and hair becoming dry and fragile. Therefore, dry, cracked skin may be reduced by adding moisture to the indoor air through a humidifier.

Other Benefits:

The humidity from a

humidifier is beneficial for the whole house. Wood floors and furniture may last longer if they're kept moist. Moreover, houseplants that love moisture may become more vibrant. Additionally, humidity can prevent static electricity from building up and wallpaper from cracking.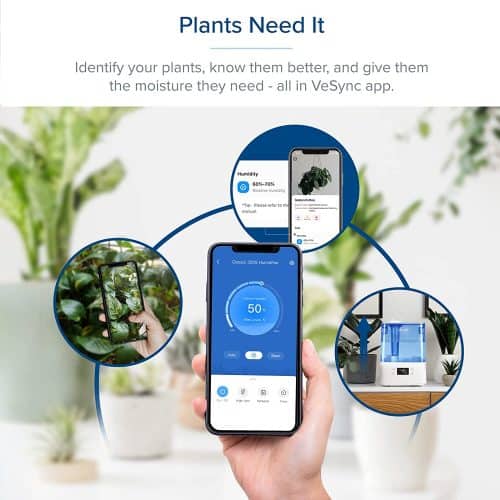 FAQ's
1- What are the Benefits of a humidifier while sleeping?
There are some health benefits associated with using a humidifier while you sleep. For instance, your skin will be less dry, your sinuses will be less congested, and you'll notice that your lips won't be as cracked.
There are also less obvious benefits. As the air dries out in the nasal passages, it becomes harder for the cilia to filter out bacteria, germs, dust, and pathogens that enter the respiratory system, weakening your immune system. Thus, using a humidifier can help your body fight viruses and other illnesses by boosting your immune system against viruses.
2- Does a humidifier help reduce snoring?
Snoring tends to get worse when the mouth, nasal cavities, palate, and airway get dry. When these dry tissues vibrate with each breath in and out, the sound of snoring can be enhanced. When you turn on a humidifier before sleeping, it can provide more moisture to these tissues, thus reducing loud snoring.
3- Can an air humidifier make you sick?
Even though humidifiers are useful, they can cause sickness if they aren't properly maintained or if humidity levels remain too high. Dirty humidifiers cause flu-like symptoms and can also lead to lung infections. Be sure to check your room's humidity levels, and keep the humidifiers clean. Also, consult your doctor before using a humidifier if you suffer from allergies or asthma.
Final words
There are a variety of styles (and sizes) of humidifiers available to suit different requirements and spaces. However, these machines should always be used gently so as not to cause any inconvenience.
You should keep in mind, however, that even though humidifiers may sound like the ultimate sleep aid, you should only use them if they are necessary. In summer, humid conditions may already exist where you live, so a humidifier may not be necessary. On the other hand, you may need a little moisture in the air for better sleep during the dry winter months.
Our goal at Whatfans.com is to provide honest reviews, so if you enjoyed our article, please leave a comment. Also, we'd love to hear what you think.
Best Deals on Amazon
Elechomes Humidifiers for Bedroom
LEVOIT Humidifiers for Bedroom
HoMedics Cool Mist Ultrasonic Humidifier
Check Out

WhatFans

Other Fan Articles & Reviews below –
How Much Electricity Does A Space Heater Use?
Dyson HP02 Pure Hot and Cool Link Reviews
Heat Storm HS 1500 PHX Wifi Review
LtYioe USB Mini Humidifier Review
Last update on 2023-02-02 at 17:40 / Affiliate links / Images from Amazon Product Advertising API