A lot of my friends have been asking me about box fans and some have read Lasko box fan reviews and are tempted by what they have seen, but aren't sure if they're powerful enough.
Lasko is a popular brand that makes many different types of fans and other air-related products. They have a wide selection of box fans, which we have reviewed here.
Why has the Lasko brand become so popular when it comes to box fans? And, do they make the right type of fan for you? We explore more here.
Comparison Table
Lasko B20725 Metal Box Fan, 20-Inch
Lasko Lasko-20 Premium Box, 3-Speed (3723) Household Fans, 20"
Lasko Cool Colors 20" Box Fan Durable Metal Frame Purple
Lasko: Presenting the Brand
We've written about the company manufacturing these products, Lasko, in our window fan review. Visit the link to learn more about the company, their ethics, and their history.

Image credit: lasko.com
Presenting Lasko Box Fans
Lasko has a huge range of fans and this includes their line of box fans. In order to fulfill the needs of multiple customers, they've created box fans to suit multiple homes and environments.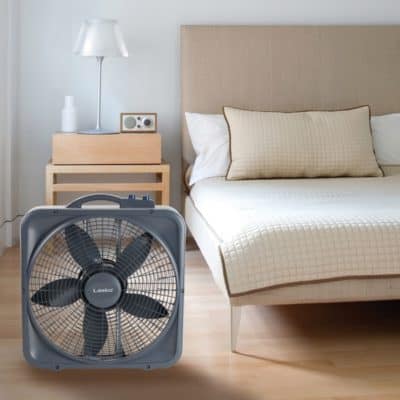 Image credit: lasko.com
What these fans promise is a portable and affordable option for use in the home, which is slightly different from what is required in a desk fan or tower fan. They are simple to set up and use and relatively compact.
Lasko box fans are available mainly in a 20-inch size and each of the products in the range is pretty similar, when it comes to design. These fans can save you a lot of space and are a great choice for those who wish to extract things from a room and keep the airflow high.
Though they're a little different from window fans, they can do a similar job if placed near a window. This means that smells, smoke, and stale air can be moved out and fresh air brought into a room.
Before buying from the Lasko box fan range, consider whether box fans are the right choice for you. They're compact and usually very portable, as well as good for shifting air, but they're not the quietest types of fans.
Think about whether the fan's white noise will be welcome or something you want to avoid and also consider whether the size of the Lasko box fan is going to be big enough to give the power you need.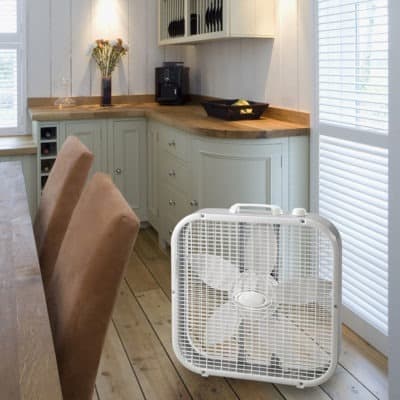 Image credit: lasko.com
Features and Benefits
The following features and benefits are common to the Lasko fan range and can help you decide whether they're suitable for you.
Fans create a bit of white noise and this can sometimes be seen as a benefit and may even help you fall asleep. Even when it isn't hot, some people use white noise videos, such as the one below, to aid their sleep and relaxation. Lasko's guide to choosing a fan touches on this noise issue, too.
​The price is another big selling point of Lasko box fans. Box fans, in general, aren't the most expensive type of fan on the market. But there is a bit of variation when it comes to Lasko's box fan prices, depending on the features, and you might pay more for a weatherproof option, for instance. However, most are pretty affordable.
Most of the fans in the Lasko range have a setting for three different speeds, to allow you to choose the power level you need. This will also have an impact on the airflow and noise created by the fan.
Box fans are relatively efficient, too. The Lasko brand says that their products with "Save-Smart" cost under $0.02 per hour to run and, in this study by creditcards.com, it was shown that some box fans can even cost less than one cent per hour to run.
Portability is another vital feature. As well as being lightweight, all of the box fans in the Lasko range have a carry handle, meaning getting them from room to room is easy. This can make them far more convenient than tower fans, for example.

Image credit: lasko.com
Lasko Box Fan Reviews: 4 Fans To Take a Look At
Lasko B20725 20 inch 
Metal Box Fan
This Lasko metal box fan is a well-built fan with total metallic body and three blades. The blades of this fan are non-corrosive which makes it much more durable than regular fans. It is a very efficient fan which produces strong breeze and has three speed settings. Lasko B20725 is a very sturdy fan unit which doesn't demand a lot of maintenance from its users. This box fan is OSHA (The Occupational Safety & Health Administration) and ETL (Electrical Testing Laboratories) certified.
Features
Dimensions 8 x 22 x 24 inches
Weight 17.5 pounds
Three speed settings
Along with ETL also meets OSHA requirements
Complete metal structure (body, blade and handles as well)
Blades are made of non-corrosive aluminum
Top mounted switch (dial-type) for better speed adjustments
Long lasting model
Patented safety fuse technology
Comes fully assembled
Pros
Very efficient air propeller
A durable fan
Complete metallic frame
Three adjustable speed setting by a rotary switch
Speed control switch at the top of fan
Metal handle to move from one place to other
Cons
Expensive
Its heavy body makes it difficult to move
Noise producing especially at high speed
Conclusion
This Lasko 20 inch metal box fan is specially designed to operate for long periods of time.
It is very famous for its powerful air propelling technology.
Complete metal body and non-corrosive aluminum blades are distinctive qualities of this specific model. The non-corrosive property of this unit makes sure that this fan lasts at least a couple of seasons. Also, its sturdy structure doesn't require a lot of maintenance as well. This fan comes with a three speed functionality which can be controlled from a top mounted switch (manually).
One of the major drawbacks of this fan model is its complete metal body which results in increased weight that makes the task of moving this unit a lot harder. Another issue is that it is not a quiet fan. Its high noise at higher speeds makes it a not so bedroom friendly fan. Plus it's a little bit pricey as well.
So if you have enough resources, want strong breeze, have a fixed place to keep this fan unit and most importantly you are not a light sleeper, then go for this model.
Lasko 3723 20 inch Premium Box Fan
This premium box fan is a three speed durable model from Lasko Company. It has slim designed fully assembled steel body with five plastic blades that gives it a very attractive look along with some great durable features. But don't confuse its smart design with weak functionality, this fan unit isn't all about the looks, its powerful motor makes sure that it gets the job done. Its three speed settings can be tweaked for suitable operation. Its fused safety plug combined with its reasonable price surely makes it a satisfying product for most of us.
Features
Dimensions 4.8 H x 21.2 L x 22.4 W (inches)
8.4 pound shipping weight
Three speed fan settings
Patented fused safety plug
Top mounted dial-type switch for speed adjustment
Steel body and plastic blades
Cost effective model
Pros
Can operate at low, medium or high speed
Easy to carry because of handle on top
Slim and smart design so occupy less space
Speed can be adjusted easily due to top mounted dial-type switch
Makes good volume of breeze
Not an expensive fan
Removable front grills
Cons
Noisy
Blades are made of plastic
Conclusion
This 20 inch box fan is a very popular four star unit with affordable price and good features. One might consider this fan a heavy one by looking at its metallic body but it actually is quite light in weight and very easy to move around. Dial-type switch on top of this box fan helps to adjust its speed settings at low, medium and high levels. Its front grills are removable which definitely will make the task of cleaning this unit a lot easy. It's actually really easy to assemble and disassemble!Major drawback of this model is its noise generation, so think twice before putting this unit in your bedroom. It produces considerable amount of noise at high speed settings.As concluding remarks it is among the cheapest box fans with slim smart frame and reasonably good features. If you are low on budget then this product is your best bet.
Lasko Cool Colors 20 inch Box Fan With Purple Metal Frame
Lasko Cool Colors fan is a beautiful and efficient 20 inch box fan which mainly comes in blue color. It is made of both metal and plastic which results in a fan that is durable and light weight at the same time. A rotary switch is present at the top to control speed settings (low, medium and high) of this fan unit. In terms of electricity consumption, some improvements have been made which is why it costs less than 2 cents per hour when compared to other box fans.
Features
Dimensions: 22.56 L x 4.438 H x 21.5 W (inches)
7.2 pounds shipping weight
Grill can be removed
Energy efficient
Durable metal frame
Dial type switch (top mounted) for speed control settings
20 inches blade diameter
Includes a patented, fused safety plug
Constructed of steel and good quality plastic
1 year limited warranty
Pros
Can be cleaned easily due to removable grill
Large blades give good air flow
Elegant design
3 speed settings (Low, Medium and High)
Consumes less energy
Portable
Cons
Not a quiet fan
Unstable feet cause vibrations and instability at high speed
Conclusion
Lasko cool colors 20" box fan durable metal frame purple is a serious contender if you want to buy a box fan that provide clean air flow to your home. Body of this model is made of metal and blades are made of plastic which means it's satisfyingly tough and reasonably portable at the same time. This fan has the ability to operate at three different speeds. Each box fan of this model contains five blades; each blade is of 20 inches that gives a powerful breeze. Energy efficiency is also a key feature of Lasko B20308. Its 2 cents per hour reduction might not seem a lot but definitely will save you a noticeable amount of money in the long run. The fan unit is designed in such way that its grills can be removed with ease for cleaning purposes as well.
There are two major cons of this Lasko product. First it produces considerable noise even when it is at medium speed. So keep that in mind before getting this product. Second disadvantage is that its feet are not stable enough to support its weight at high speed settings which might make this unit vibrate.
So if you can bear a little bit of noise and vibrations then this product is a must for you.
CLICK HERE TO CHECK IT OUT ON amazon
Lasko 3733 20 inch Box Fan
Lasko 3733 20 inches Fan Box is an ETL (Electrical Testing Laboratories) listed light weight fan. It can work at low, medium and high speed settings. Its plastic body makes it portable enough to be moved from one place to another without any hassle. This box fan consumes less energy due to use of advance technology and light weight blades.
Features
Dimensions 23.2 x 5 x 21.8 (inches)
6.6 pounds shipping weight
ETL listed
Three speed settings to choose from
Top mounted rotary switch for speed adjustments
Noiseless operation
Energy-efficient
High air movement
Light in weight
Pros
Occupy less space
Portability is not an issue due to light weight
Minimal noise production
Less electricity consumption
Not expensive
Cons
More chances of breakage due to plastic body
Unstable during high speed due to light weight
Noisy
Conclusion
The 3733 20 inch fan of Lasko manufacturers is a perfect fan for small  and medium sized rooms.
Its small size makes it a perfect candidate for people who are looking for a space saving fan with reasonably powerful motor for extra airflow. It has a rotary switch at the top to adjust the speed according to one's requirements. It is among the best light duty box fans due to its less energy consumption and efficient air flow. Its smart design and light weight make it a very popular choice among common people. The plastic structure of this box fan along with a handle at the top make the task of moving it a lot easier.
This unit has a few drawbacks too.
Although it's small size saves a lot of space but it enhances the chance of damage to blades and motor. When fan is known to get unstable while operating at high speed and vibrates more than usual. Overall this unit is an efficient, quiet and low priced product that would not make you regret spending your money.
CLICK HERE TO CHECK IT OUT ON amazon
Final Verdict
All of these four box fans have their own pros and cons.
But when we rate them by comparing their features, the Lasko #3723 Box fan has the highest ratings among all four fans.
This is a splendid fan with many useful features.
It is a fully assembled smart fan that has the capacity to work at low, medium or high speed. To control the speed, an easy to use dial-type switch is present at the top as well. Reasonable price is also a plus point of this particular model.
On the downside, just like all other box fans this unit also has an issue of noise generation at high speed.
A dream model for middle class customers whose main limitation is the availability of resources.
On the second position is the Lasko B20725 Metal Box fan because of its complete metal structure and ability to provide an astonishing amount of airflow.
These features are what separates it from other box fans.
After buying this unit, you won't be worrying about replacing it for at least 3-4 years. Lasko B20725 is also approved by ETL and OSHA which is a clear indicator of its efficient functionality. Heavy weight due to metal body hinders its portability. Noise production should also be kept in mind if you are planning on buying this metal box fan.
But overall, Lasko B20725 Metal Box Fan is a good choice for people who want to invest in a long lasting product.
On third position in this list of Lasko box fan review is the Lasko Cool Colors 20 inch Box Fan Durable Metal Frame Purple.
This unit is a little bit different in terms of appearance due to its unique royal blue color. This means that it can easily be adjusted even in the most well decorated rooms. It's not all about its outer appearance though, it also is a durable fan equipped with lots of features. A speed regulator is present at the top of the fan with the help of which you can easily adjust its speed. It is an energy efficient fan which means that it will consume a lot less energy compared to other units, more specifically it will save you 2 cents per hour. Five plastic blades provide sufficient air even for large rooms.
Lasko B20308 box fan also has some disadvantages too.
The first one is its noise production which might be a deal breaker for most customers especially the ones that are light sleepers. Another thing that might create some problems for customers is its vibration at high speed settings. This is mainly because of its instable feet that aren't suitable to handle its high speed vibrations.
Last but not the least is the Lasko 3733 20 inch Fan Box which is considered to be a simple yet efficient at what it's designed for.
With its light weight structure, you can easily move it around single-handedly. Due to its light weight and plastic blades, the noise production by its operation is minimal at its best which is a plus. Also, it is specially designed to consume less energy compared to its counter parts which will save you a lot of bucks in the long run.
What might stop you from buying this unit is its simple functionality.
Unlike other products, Lasko 3733 doesn't come with a lot of many features which mainly puts it into a low- medium duty fan category. Another thing worth mentioning is its vibrations at high speed which might be troublesome for some people. In short, this product is designed for lower or mid budget families.
If you want a reasonable priced medium functionality fan unit, then this is your best choice. Otherwise you should pick the ones that comes loaded with lots of features.
So you have a couple of high duty fans with lots of great features and a couple of low duty products as well. We have provided you with all the information you need to find the right product for yourself and your family.
So just read our reviews and pick the one that suits you best!
Useful Accessories For Your Box Fan
Each box fan should have a filter to make sure the air in your house is clean and breathable.
PollenTec Air Filter
To add an incredible power to your box fan, check out this washable air filter. It has an amazing ability to clean air thanks to a special filtration material it is made of. It will catch the majority of the pollen coming from outside with air as well as dust, pet dander, and other unpleasant things.
Features
Made of filtration material PollenTec paired with a dense high air flow support layer of an antimicrobial filtration media
PollenTec material is certified by the European Centre for Allergy Research Foundation (ECARF)
Captures up to 98% of airborne pollen allergens as well as large and small particles from the air, including dust-mite debris, mould spores, pet dander, and household dust.
Pros
Washable and reusable
Very good at catching the most of the outside dust
Cons
Fits standard 20" box fans only however! The company makes Premium Fan Buddy filter that fits bigger fans 21.5″ x 21.5″. You can contact them directly on Amazon to get the premium version of the filter.
CLICK HERE TO CHECK IT OUT ON amazon 
Last update on 2023-02-02 at 17:40 / Affiliate links / Images from Amazon Product Advertising API