In this Levoit 300s Humidifier Review, we examine its Specifications, Pros, Cons, and Overall Ratings.
The Levoit Classic 300S humidifier connects to VeSync through an app that creates a cool mist in the home. You can control the humidifier with the app, turn it on and off, adjust the mist level, choose a preferred humidity level, and even speak commands to control the humidifier. It will also alert you when the humidifier tank needs to be refilled if you allow the VeSync app to send notifications to your phone.
Comparison Table
Title
Orgtoy 6L Humidifiers for Large Room Bedroom, 26dB Cool Mist Humidifier for Home Office Plant with...
LEVOIT Classic300S Ultrasonic Smart Top Fill Humidifier, Extra Large 6L Tank for Whole Family, APP &...
6L Humidifiers for Bedroom,Cool Mist Humidifiers for Home,Ultrasonic Top Fill Humidifier,Quiet,with...
6L Humidifiers for Bedroom Large Room, Cool Mist Humidifiers for Baby Nursery Plants with Essential...
Levoit 6L Top Fill Cool Mist Humidifiers
Classic 300S provides 4x faster humidification than other brands, a 6-liter tank, and up to 60 hours of operation, allowing it to provide relief for rooms up to 505 square feet. Moreover, the Classic 300S is perfect for bedrooms and nurseries, as it is made from BPA-free materials and operates quietly. 
Levoit Classic 300s Humidifier also features a humidity sensor, an aromatherapy pad for adding essential oils, and a top-fill design to make cleaning and refilling easier. Also, it features two intensity settings for the night light and an auto mode that adjusts the humidity level of the room automatically between 40 and 50 percent.
CLICK HERE to check it out on Amazon
Specifications
Dimensions: 9.05 x 6.88 x 13.88 inches

Product Weight: 4.4 pounds

Power Supply: AC 120V, 60Hz 

Rated Power: 26W

Noise Level: ≤ 30dB

360-degree Rotating Nozzle

Water Tank Capacity: 1.58 gal/6 L

Effective Range: 215–505 square feet

Max Run Time: Up to 60 hours of run time

Material: BPA free

Power Source: ETL Certified AC Power Adapter
Check out this video on Youtube of The LEVOIT Classic 300S Cool Mist Humidifier
Pros
Easy to assemble

Easy to use

Ultra-quiet 

Large water tank

Stylish and fits into any room

Can run for up to 60 hours

Certified for Safety & Reliability by ETL

The auto mode adjusts the humidity automatically
Cons
It is hard to clean

The humidity monitor is inaccurate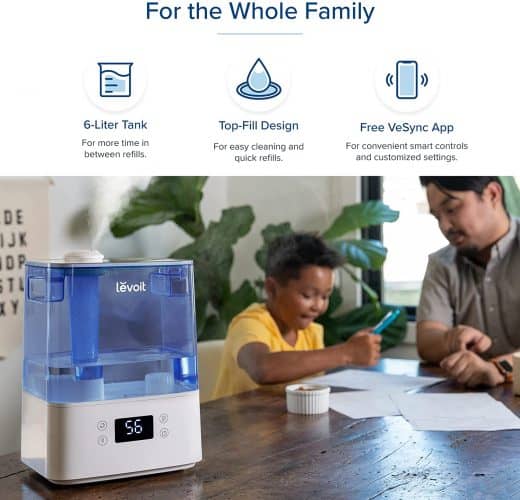 FAQ's 
1- What is the recommended cleaning schedule for my Levoit Classic 300S humidifier?
Your Levoit Classic 300S humidifier should be cleaned every three days. You should change the water at least every other day to prevent bacteria from growing. Make sure you should unplug the humidifier before cleaning or changing the water. Wash the water tank by removing the nozzle cap and with clean water.
2- Do Levoit humidifiers require distilled water?
Yes, you should use distilled or purified bottled water to keep a humidifier clean, since it has fewer minerals than tap water. Warm mist humidifiers should be handled with caution. Because they produce steam using boiling water. If these devices fall over or leak, they pose a burn risk, particularly to babies and children.
3- How can I tell if my humidifier has mold?
Keep a keen eye out for any weird smells coming from the room where your humidifier is running. There may be mold growth if the air smells like a basement. Mold is likely to grow inside your humidifier if you haven't thoroughly cleaned it for a while.
Overall
The Levoit Classic 300S humidifier is a great choice for you if you want to remotely control your humidifier from your smartphone or tablet, and it will humidify a medium-to-large room or a small apartment. A 1.5 gallon (six liters) water tank and an essential oil aromatherapy pad make this system suitable for spaces ranging from 215 to 505 square feet. Having adequate hydration will ensure that you sleep better since you won't be waking up due to dry air in your room.
The Overall Rating is 4.5 Stars
We at Whatfans.com strive to provide honest reviews, so we encourage you to leave a comment if you like our article.
Check Out
WhatFans
Other Articles & Reviews below –
LtYioe USB Mini Humidifier Review
Econohome Wall Mount Space Heater 400w Review
How Much Electricity Does A Space Heater Use?
Tips For Heating A House Without Electricity
Last update on 2023-02-02 at 17:40 / Affiliate links / Images from Amazon Product Advertising API