What is ETL?
Do you have an ETL marked fan and curious what does ETL stand for? Find out what is ETL and how ETL marked fans are tested.
Buying anything these days seems to face buyers with a myriad of choices, so it is important to stand out to the consumer. When we purchase fans we often select on branding and functions, however, product safety is paramount.
Becoming more apparent to consumers is the need for safe products, this has increased recognition of the ETL mark. A mark of safety, when a product is 'ETL listed' it signals the recognition of its compliance according to the safety standard guidelines of North America, Canada and now Mexico. Undergoing rigorous testing and periodic follow-up checks, the ETL mark signals safeguarding from electrical faults and insurance of stable product performance. Offering you the confidence needed in the product.
ETL marking should be easily recognizable as vendors and buyers alike are increasingly seeking the ETL mark when purchasing electrical products. Products not bearing this mark are liable to performance issues, shock and can even initiate fires. Don't take risks, only purchase ETL listed products as these products give you the best of quality assurance.
What Does ETL Stand For?
We all want to protect our families and provide a safe home environment. It is essential to ensure we are safe when using household appliances, especially with so many faulty and inadequate products flooding the market. Thankfully ELT helps us decipher such faulty and defective items available among most electrical products, including house fans which require safety testing. In order to achieve this certification you must adhere to certain regulations.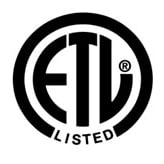 Electronic Testing Laboratories (ETL) basically refers to a facility approved to carry out tests. Testing is designed to satisfactorily meet safety requirements, preventing faults and injury. This is an absolute must for products that we keep within our homes. In order to meet the requirements of ETL, testing undergone must comply with all legal requirements set by the Nationally Recognized Testing Laboratory (NRTL). NTRL monitor the legislation and is licensed to carry out independent safety reviews. Reviews include product assessments, testing and certification. Above all, NRTL is verified by the Occupational Safety and Health Administration (OSHA) and that is the ultimate legislation administrator.
To help you get rid of any confusion, it is OSHA that has the ability to authorize individual organizations to perform their own independent reviews. Furthermore they dictate the guides, and among those, it is stipulated that safety checks for household fans are mandatory.
It is the responsibility of the product producer to ensure that all products comply with ETL standards. Possible to achieve these standards via a UL, though this may meet requirements, an ETL assurance is recommended for a variety of reasons.
What's The Difference Between UL And ETL?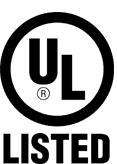 Many similarities exist between Underwriting Laboratories (UL) and ETL. Both offer a mark of certification indicating products that meet nationally approved guidelines. Accredited by NRTL, both UL and ETL are accepted by OSHA and offer the consumer assurance of a safe product. The fundamental difference is that ETL extends beyond UL providing a complete service along with certified accreditation.
ETL performs testing in a shorter time period and indicates the company's compliance with future follow-up checks.
Electric fans are required to have the correct certification. To provide you an example of the excellent safety standards, there is an ETL certified product which offers the Lasko 16″ Electrically Reversible Window Fan with Storm Guard. It is an Electrical Reversible Window Fan which is discussed throughout this article.
CLICK HERE TO CHECK OUT THE ETL CERTIFIED Lasko 16″ Electrically Reversible Window Fan on amazon
If you are looking for alternatives to this Lasko fan, check out these reversible window fans.
What Does It Mean For a Household Fan To Be ETL Certified?
ETL certification lets us purchase products with confidence and ensures that vendors sell the products which have been suitably tested and are cleared for legitimate sale. Safe for household use, certification may result in the possibility of higher sale prices and increasing profit margins. Unique to ETL, certification further indicates relative checks as products are subject to regular rechecking and electricians will only work with ETL or UL certified products.
Though the push for testing of electrical fans has been successful it is up to you to ensure your purchases are ETL certified.
What Features Make a Fan To Be ETL Certified?
Once your product wears the ETL labeling strict safety conditions are checked and regulation compliance is adhered to. ELT offers up to date testing and standards with the following assurances:
The product parts are safely designed and securely held in position.
Surge protection is checked against as is the case with the Lasko Reversible Fan. It has a patented fused 3-prong grounded safety plug for your guaranteed protection.
Wiring for earthing is adequate, e.g. product faults will be managed by earthing safely protecting you from electric shock.
Electrical current used is sufficient for use on the grid and is not leaking to excess.
Potential weather conditions are considered. In compliance with this, the Lasko Window Fan has an exclusive storm guard feature.
How Is The Testing Done?
Different testing procedures are required for each product type. Legislation stipulates further details including, but not limited to safe electric input requirements, warning labeling and storage necessitates. However, in any case, testing is performed in two distinct test types. Initially when a product is designed, a 'type test' is performed. This ensures the design quality is safe from electrical faults prior to manufacturing. This test ensures that we can use the product safely and that any appropriate labeling and warnings are marked for your protection. This testing is vigorous and the product is tested under excessive circumstances. Exposure goes beyond what the product would be subject to in our homes, ensuring all likely circumstances have been checked prior to our use.
Products are further tested checking responses to stimulated faults. Surges are intentionally sent through the product and faults are created testing for the resulting reactions. Providing the product passes the testing, a 'production line test' is then carried out on every product prior to sale. A form of quality assurance, together these tests provide us with the sound knowledge, the product purchased can be used with confidence.
Subject to rigorous testing a Hipot test is performed on electric fans. This test subjects the fan to higher levels of voltage than otherwise would be expected during usage. Once left to run for a stipulated duration, if successful, is then considered safe for use under standard conditions. When correctly designed a minor amount of current will escape as outage often slightly exceeds products capacity. However, in the case of error, a larger amount of current is lost potentially risking electrocution.
Passing all tests with flying colors and exceptional safety features, the Electrically Reversible Window Fan by Lasko is a prime example of an ETL listed product.
Lasko 16″ Electrically Reversible Window Fan with Storm Guard
The Lasko 16″ Electrically Reversible Window Fan with Storm Guard is a cost-effective option for better home comfort. The three intuitively designed blades are perfectly angled using an aerodynamic design. With three convenient and low-noise speed options the Lasko Reversible Window Fan is the ideal way to air your house.
The Lasko Reversible Fan has been designed for your home comfort and safety in mind. It offers a patented fused safety plug, registered storm guard design and a handy option to the close the window behind the fan in the event of bad weather.Manufactured by Lasko you can trust in the quality of the products' parts and workmanship. Designing and creating metal products since 1906, today Lasko is leader in the production and servicing of a wide range of appliances. Adapting to the American way of life, Lasko have ventured into the making of small household products such as fans and heaters. With over 100 years' experience Lasko continues to expand its scope beyond the horizons.
CLICK HERE TO CHECK IT OUT on amazon
Read more reviews of Lasko fans here.