In this Best Tower Fan Reviews article we go through all the Pros and Cons of the most popular tower fans. Below are 5 Best Tower Fans and thorough reviews to check out for this year!
In the hotter months, fans can be a real savior, especially if you don't have an air conditioner. I've noticed some of my friends (even those with AC units) turning to tower fans, as they are more eco-friendly than air conditioners and require less power to run.
Fan technology has improved a lot in recent years, so I wanted to put together a round up of the best tower fan reviews, to show you some of the top options. There are actually many different types of fans on the market, but lots of people find that tower fans are best suited to them. If you choose the right model, you'll end up with a safe, energy-efficient fan that doesn't cost a huge amount to buy or run.
Image credit: flickr.com
What Are Tower Fans and Why We Have Reviewed The Best Tower Fans
Out of all the types of fans out there, I see a lot of tower fans when I visit people's homes. Tower fans promise a lot to the consumer and have some features that other styles of fans don't offer.
Tower fans are called so because they are tall and relatively thin, resembling a tower. The aim of this design is to maximize the fan's power, but cut down on the floor space needed. Tower fans are especially suitable for smaller apartments, where space is at a minimum.
Because of their design, tower fans can rotate with ease, meaning that the space they cover is far superior to other fans that only point in one direction. Because of their power, some tower fans are a legitimate alternative to air conditioning, which can cost a lot of money, over time.
The design and price of tower fans can vary quite a lot – some are far more expensive than others. Also, some offer portability, whereas others are more difficult to get from place to place.
In order to help you choose, we've presented all the considerations you should make before buying a tower fan.
Top Things to Consider Before Buying a Tower Fan
The following considerations are the most important things to think about before you make your tower fan purchase.
Size and Portability
Size and portability are two huge things to consider when buying a tower fan, especially if you are short on space. Though most tower fans are pretty similar, in the sense that they are all tall and relatively slim, there is a lot of variation regarding their size.
If you are in a small apartment, or you just want to use a fan in a smaller room, like a small office, it is worth thinking about how much space the fan will take up. The best small tower fan can provide plenty of power, so you don't always have to opt for a huge product.
Size also plays a part in how portable the fan is. You probably don't want to buy a different fan for every room you spend time in, so having a fan with a handle, which can be easily moved around and doesn't weigh too much, is a big plus point for some people.
Always check the dimensions of the fan you are looking at and pay attention to its weight.
Noise
When it comes to any type of fan, noise is definitely something you should consider and this is an interesting topic, when you think about it. Many tower fans focus on being as quiet as they can, but it is almost inevitable that they will create some form of noise. This noise has its pros and cons, so whether you want a fan that creates noise is up to you.
If you are looking to put your fan in a cinema room and want to be able to focus on the surround sound, a noisy option is going to really annoy you! However, noise isn't always a bad thing.
The type of noise that comes out of a fan is usually just "white noise", something many people find relaxing. This noise can help you wind down and even help you sleep. This doctor's advice about white noise shows that it can be the key to a better night's rest.
For this reason, whether you want a noisy fan or not will come down to preference and how you plan to use it.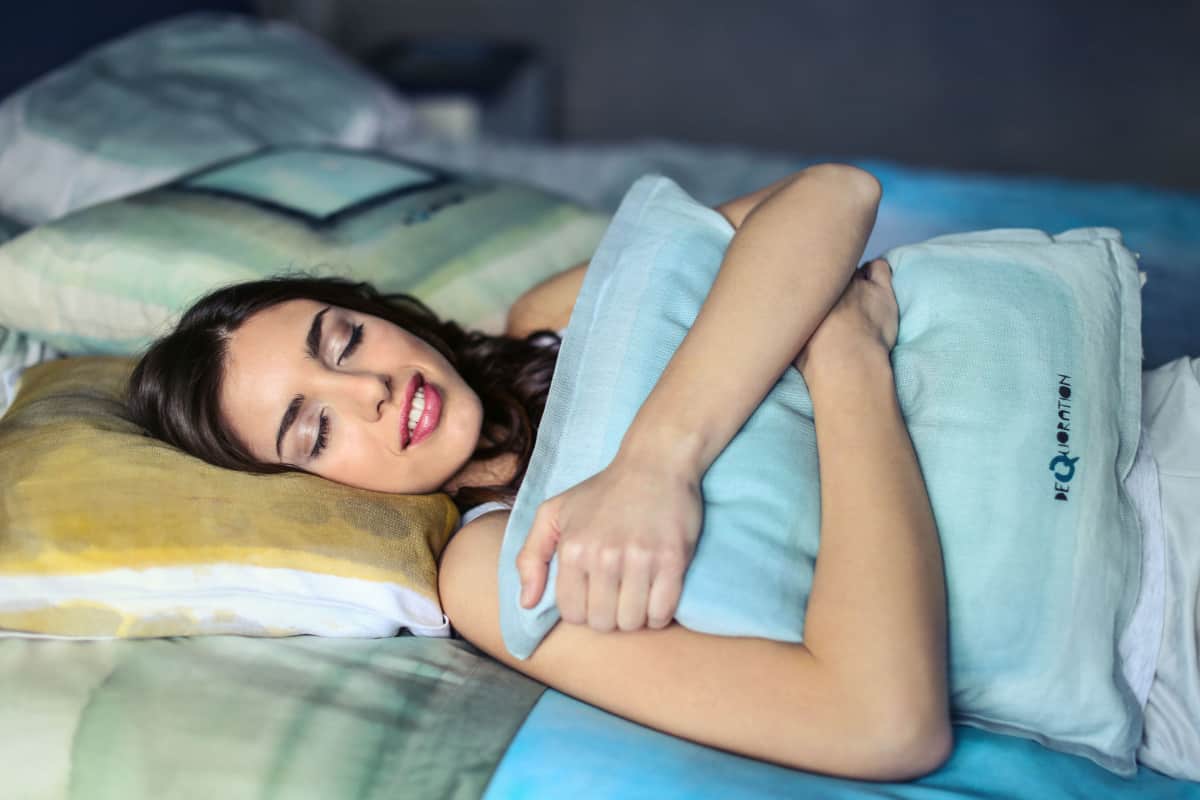 Speed and Fan Settings/Modes
The cooling power of a fan comes from its speed and the modes it offers. All of the fans mentioned here have their own unique settings, modes, and speed settings, which you can cycle between to choose the ideal one for you.
The thing to consider when it comes to fan speeds is control. Naturally, we all want a fan that can move a lot of air, but we don't always need it to be running at its full level.
Having a number of settings means you can choose the one that is best for the environment you are in. If you are just a little warm, a fan which can only be set to "off" or arctic-level cooling isn't much use to you. Some fans have two or three different settings, whereas others can have 10 or more, allowing you to cycle through and choose the best setting for you.
Some tower fans also have modes, such as sleep modes, which can cycle through the coolest settings while you sleep.
Construction and Build Quality
Chances are, your fan is going to see a lot of action, especially during the warmer season, so it is definitely worth thinking about how well-built your fan is. The best options out there will be reliable and can last you for many years.
Unfortunately, not all fans offer this same level of quality and they might develop issues, over time. Even if it doesn't break entirely, a poorly made fan runs the risk of having a remote control that stops working, needing repairs for the fan itself, or making much more noise than is normal.
When we talk about construction, we are also referring to the assembling of the fan that may or may not be needed. Does the fan come fully made, or will you have to put it together when you get it?
Not everyone is handy enough to want to build a tower fan. But, often, the only construction left to you is taking it out of the box and putting it on a base.
Oscillation
A lot of tower fans include an oscillation function, which creates extra airflow and helps circulate the air within the space. This feature works by using louvers to push the air in many different directions, rather than just one, making the fan extra effective and efficient. For more information on how oscillating fans work, check out this article on hunker.com.
Different models offer different oscillating patterns and functions and range from 45 to 90 degrees in movement. Combine these features with any rotating features and you can see how the right tower fan can be great, when it comes to coverage.
Remote Control
A remote control is another thing to consider when buying a tower fan. This matters far more to some people than to others and will probably depend on the environment in which you plan to use your fan.
If you are only using your fan in a tiny office, the chance of you needing a remote control are slim – you should just be able to just swivel around and make any changes on the tower unit itself.
However, remote controls can come in really handy and not just if you're feeling lazy. If you are using your fan to help you sleep and you get too hot or too cold just before you drift off, changing your fan settings via remote control is far better than getting up out of bed.
Remote controls can also be very useful for people who aren't as mobile. Perhaps you have a disability, for instance. If getting up to change the setting is a big challenge for you, a remote control might be essential, rather than just a luxury.
Control Panel
Whether your tower fan has a remote control or not, it will have some sort of control panel to allow you to make changes. This control panel plays a big role in how you get the most out of your fan.
Control panels should offer an easy interface, with no confusing buttons or odd layout. The buttons should be reliable and easy to reach and it should be clear what everything does. Considering your fan's control panel before you buy is more important than you initially may have assumed.
Some fans offer LCD or LED panels, which can show the modes you have set, the current strength or speed of the fan, and more.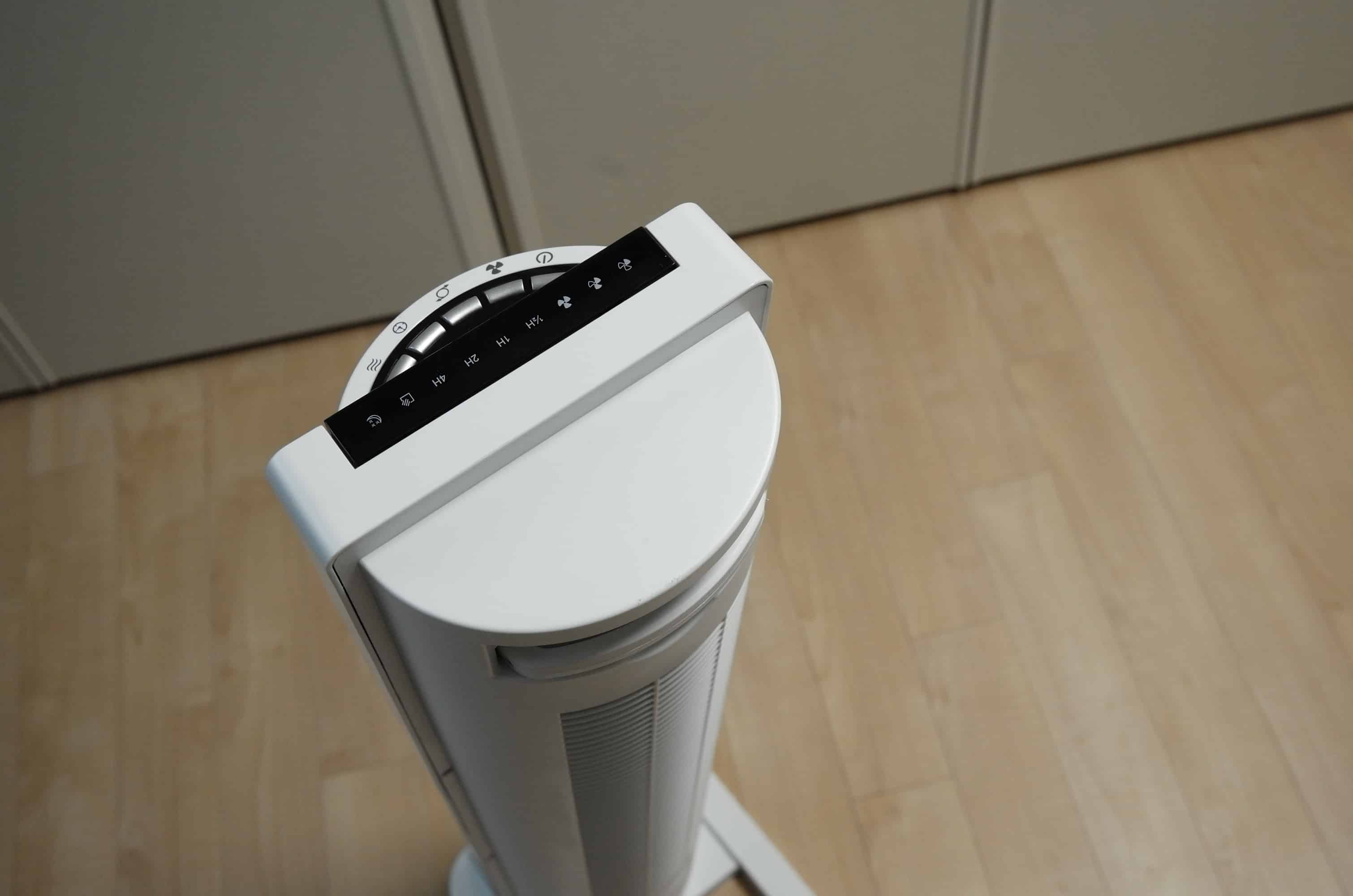 Image credit: flickr.com
On/Off Timer
We've already briefly talked about the sleep timer function that many top tower fans have. This function normally means that, after a while, the fan will move to a lower setting or automatically cycle between speed settings, while you sleep.
However, on top of this, many tower fans also have timers, for switching the fan on and off. This is quite a high tech feature, but modern fans are more likely to have it included.
An on and off timer means you can set a certain time for your fan to switch off or on. For instance, if you don't think you'll need the fan overnight when the temperature has dropped, you can set it to turn off and then automatically come back on shortly before you plan to wake up.
Stability
Stability may not be one of your first considerations when choosing a tower fan. Even though everyone wants a sturdy fan, this is more of an issue for some people than for others.
For example, perhaps you have pets running around and you know there is a chance they might knock over your fan. A less sturdy model may just topple over, which can cause a lot of damage and even be a hazard.
There are a few different ways tower fan manufacturers try to create more stability in their fans. Naturally, products which are tall but have relatively small bases aren't going to be as sturdy, but there are things that can be done.
Some fans feature 'feet' at their base, which helps balance the fan's weight. Others have a particularly wide base to create the same effect.
Some manufacturers put 'anti-slip' material on the bottom of their tower fans. This prevents the fan from toppling if it gets a little bump and helps the fan 'grip' the surface it is placed on.
Warranty
When looking at tower fans, you might be struck by the difference there is in their warranties. Some products don't specify that they have any warranty at all, while others offer coverage for many years.
It is always worth looking at this, as a warranty helps protect your purchase. If you have a long warranty, you can rest assured that any issues the fan develops on its own will be covered. A warranty usually means you will be entitled to a replacement or a repair.
A warranty on your fan is not just about protection, it is a good indicator of how comfortable the manufacturer is with their product and how confident they are that it is not going to break down after a few months of use.
Filters and Ionizers
A tower fan might have yet other features, including filters and ionizers. These are often built in, to create better air quality in the room.
A filter can help to remove unwanted particles from the air and, in the case of a fan, a filter can prevent unwanted bacteria and other small molecules from spreading around the room by the fan's airflow.
An ionizer works differently – it uses negatively charged particles, which are dispersed and attracted to positively charged particles found in bacteria or other allergens which may be in the air. They neutralize this threat to create cleaner and fresher air. Here is some more information about how ionizers work.
You might already have an ionizer or a filter in your room, but, if not, it is worth thinking about whether this is a feature you value.
Appearance
Your tower fan's appearance should be at the bottom of your list when it comes to prioritizing the features to look out for. Appearance has very little to do with the quality of a fan. That being said, if you've spent time and money making your home look good, the last thing you want is an ugly fan ruining the decor.
Appearance is obviously something very subjective. However, when it comes to tower fans, a nicer looking fan will generally have a subtle design that can blend in with your decor, rather than being the first thing people notice in the room.
While appearance shouldn't be your main consideration when purchasing a fan, if you are looking at two fans with similar filters, but one is far better looking, go for the one with the looks.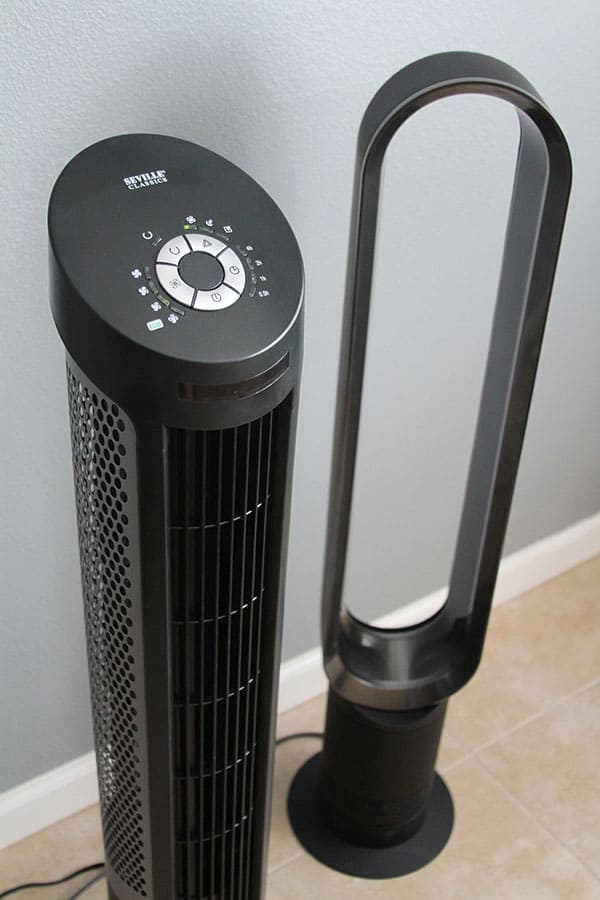 Image credit: flickr.com
How Does a Tower Fan Work?
Fans work by using a motor that causes motion in the blades or oscillator of the fan. This movement promotes airflow and creates a feeling of cooling air. This is an interesting piece of science, as the temperature doesn't technically drop directly as the result of a tower fan – it just causes us to feel cooler.
Instead of cooling the room, the circulating air helps evaporate sweat from our body – this is how the 'cool' feeling creeps in. If you think about it, fans aren't treating the heat in the room, rather the heat on our bodies.
For more information on how fans actually help keep us cool, you can read the science behind them in this How Stuff Works article.
Tower Fan Housing
The housing of a tower fan means its blades and oscillators stay inside and are not even visible a lot of the time. Instead, there are usually vertical vents, so the air can get out into the room.
The housing will also have some sort of air inlet. This lets the air travel into the fan and move through the vents, into the room. As you can see from the technologies listed below, the type of housing depends on the style of the fan and the blades within it. Blades can have different placement and some are even in the base of the fan.
Tower Fan Technology – The ABCs of Tower Fan Tech
Axial fans
This type of fan uses blades, like many other fans. Axial fans often vary in their number of fans, the speed at which they rotate, and their angle. Often, these type of fans will have numerous blades within their housing.
Bladeless Fans
The name of this type of fan is a bit misleading. They actually do have blades, but they are in the base, so they're not visible at all. A bladeless fan is often safer, as it doesn't have any exposed blades. They are also often much quieter than the other varieties of fans and often include rotating functionality.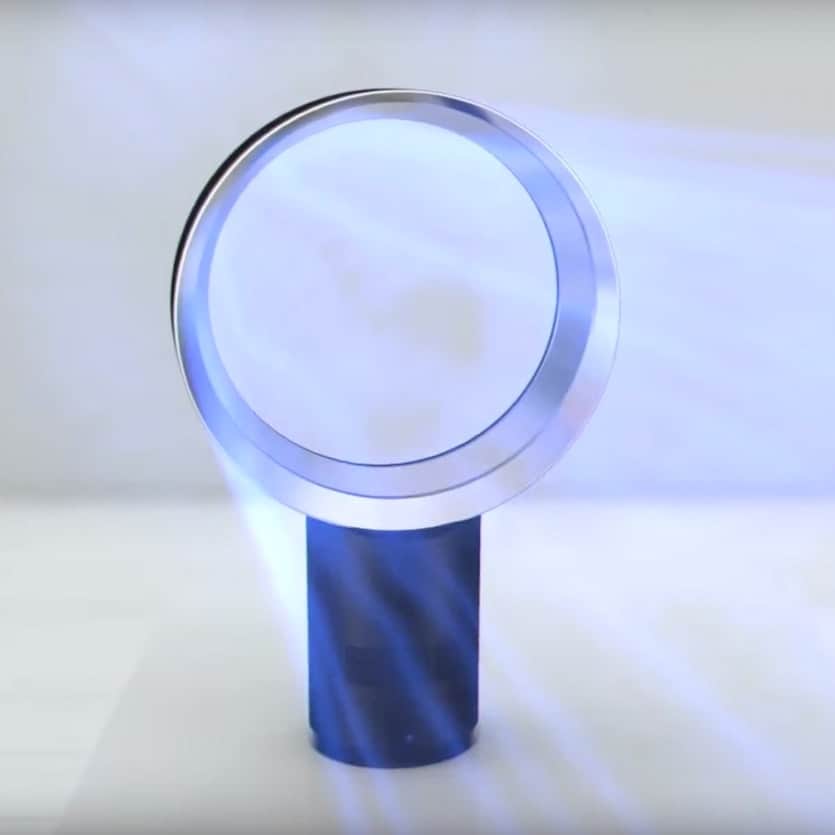 Image credit: cosmosmagazine.com
Centrifugal Fans
These fans push the air one way, perpendicular with the fan's face. This means the fan is able to rotate at a quicker rate than the axial fans mentioned above. This type of fan has a higher cooling capacity and, in some cases, they can be more economical than other types of fan.
Which to choose?
Whichever type of fan you choose, they all have their pros and cons. Also, one of the technologies above isn't necessarily better than the others, just more suited to your individual needs. A little consideration for which type will suit you is essential.
Tower Fans vs Pedestal Fans
Whichever type of fan you choose, they all have their pros and cons. Also, one of the technologies above isn't necessarily better than the others, just more suited to your individual needs. A little consideration for which type will suit you is essential.
Before deciding which tower fan you will buy, you need to think about whether a tower fan is even the right choice for you. For instance, many people see them as an alternative to pedestal fans, which can be similar in dimension.
Some people don't even realize that these are two totally different types of fan. So, are tower fans better than pedestal fans? What are the differences between them?
Well, naturally, the look and design between these two types of fans are very different. Pedestal fans tend to be top-heavy and you can see this in the way they look. If they're not designed properly, this can make them more prone to tipping over.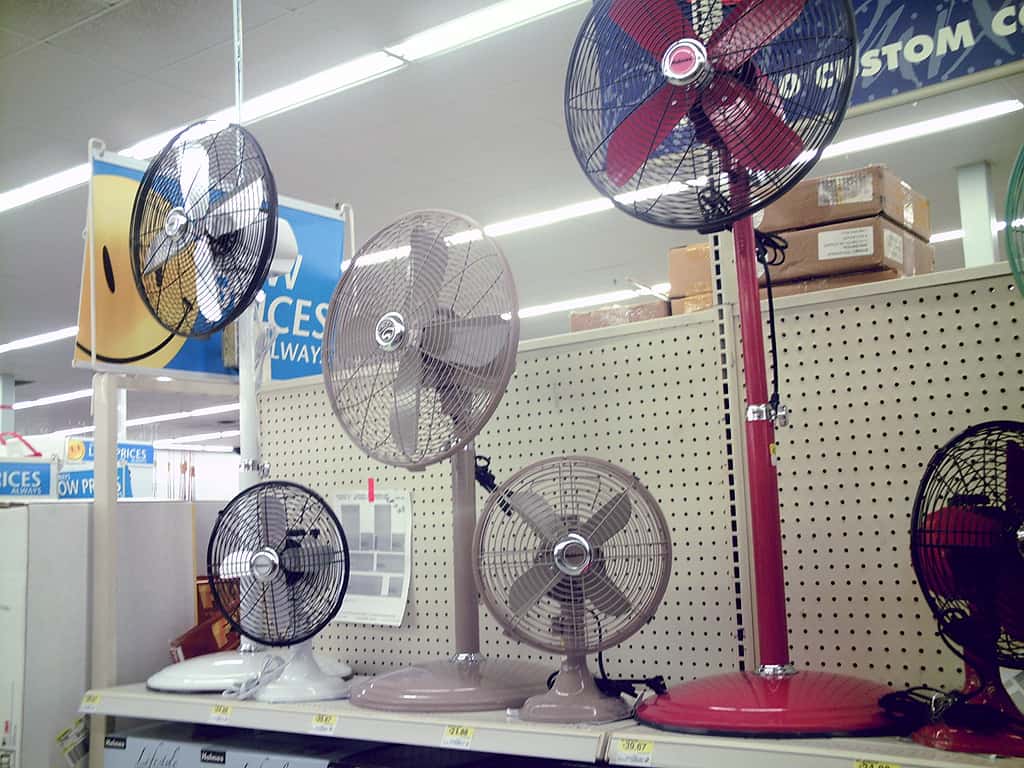 Image credit: flickr.com
The safety features of a pedestal fan should be considered, especially if you have kids or pets. Pedestal fans sometimes have inner parts that can be touched, for instance, blades that are not completely covered.
This makes a tower fan a better choice when it comes to safety around the home and unsupervised use in rooms with kids and animals.
Tower fans are also often less noisy. This isn't the case 100% of the time, but the casing around the tower fan means that the movement which creates noise may be partially blocked by the housing material.
Cleaning and maintaining a tower fan is usually easier. There is no need to disassemble the fan, whereas, with a pedestal fan, you may have to remove the grilles to get to the blades. If you have a bladeless tower fan, the maintenance is even less, as dusting is only required infrequently.
A bladed tower fan just needs its casing to be cleaned to stop dust from building up and becoming an issue. Cleaning a tower fan is incredibly easy compared to a pedestal fan. Plus, if you have to take the grille off and disassemble a pedestal fan to clean it, as is often the case, you may not be able to put it back together properly.
Tower Fans Review
These best tower fan reviews are for you if you're looking to upgrade your old windmill into a tower model.  There are a lot of reasons for wanting to do this, of course.  Tower fans have a far smaller footprint, are generally quieter in operation, and also use less power overall.  That said, just keep in mind that the exchange for that is a higher price.  Tower fans generally cost more than their windmill-style cousins, so do not be surprised if the purchase costs of the products below all punch above what you paid for your old model.
Lasko T42950 Wind Curve Fan
In this short Lasko T42950 review we highlight the most important pros and cons of this fan. If you want to the detailed information about the fan (and watch the video!), check out our Lasko Tower Fan Reviews page.
Lasko's T42950 model is equipped with both Fresh Air Ionizer technology and Wind Curve technology to deliver fresh air circulation to any space.  It has an electronic timer, a remote control, and 3 fan speeds. It also has an oscillation range of 45 degrees towards either side.  It also has a safety feature that makes it turn off if it is tipped onto its side.
Pros
Ionizer contributes to the quality of the air
Very quiet
Seems to cool the air it blows out
Cons
Rather poor range on the remote
Poor range on the oscillation
This tower fan that has a lot of things going for it.  First, it's rather sleek-looking so it wins in the looks department. Second, it combines excellent air cooling with an ionizer, so it wins in the utility department too.  In fact, this fan would be very nearly perfect were it not for the slightly shabby range of its remote control as well as on its oscillation.  Still, that probably wouldn't trouble you much if you aren't in too large a room.
Want to know more about the fan? Check out Lasko Tower Fan Reviews page.
Honeywell Fresh Breeze Tower Fan
This Honeywell model is a 3-speed tower fan equipped with a 1-12hr timer.  It has a liquid crystal display, a thermostat that you can program, a washable filter, oscillation technology, a remote control, and a flashlight (on the remote control).  It is more than 40in tall and has ionizing technology. This will cost about as much as the previous ones.
Pros
Sleek and modern style
Moves a good amount of air
Temperature control is very useful if the ambient temperature changes quickly or often in your area
Cons
Remote control has limited range
When put on breeze mode, it tends to oscillate in the amount of noise it puts out
This tower fan is actually a few inches under the size of the Lasko model preceding it in this list, but it puts out much the same amount of air.  It also has a slightly wider range of oscillation than the Lasko, which may render it preferable for users with bigger (or wider, at least) rooms.  It's a bit noisier, though, so keep that in mind—not by much, but a bit.
Holmes Oscillating Tower Fan

This streamlined machine comes with a remote control as well as a motorized oscillation function to provided maximum coverage for your space.  It has 3 speed settings, a shutdown timer that extends as far as 8hrs, sleep and breeze modes, and an onboard storage nook for its own remote control. Cost less than the previous one.
Pros
Wide degree of oscillation
Has a button on the remote control that lets you turn oscillation on and off, and essentially freeze the fan's direction mechanism from a distance so that it aims at a particular spot of the room
Cheap
Cons
Not as quiet as many of its pricier competitors
This is a pretty good-value fan for those who want a tower fan on a budget.  Even though it's a shorty compared to other fans on this list, it's still not far from them when it comes to how much air it actually moves.  This will serve most people's needs for office, bedroom, or even living room cooling.  The wide-angle oscillation is definitely one of the biggest points in this fan's favor, although you should keep in mind that it's not the quietest of the options here.
Ozeri Ultra Wind Fan
This top of the line model offers 3 wind patterns, 90-degree oscillation, a 12-hour timer with single hour increments, and even an LED screen that has a night-dimming mode.  It can be operated by remote control and boasts a room temperature display.  It can also be put together by hand (tool-less assembly). It is a bit pricier that the previous ones.
Pros
Like the Holmes, has a button for turning oscillation on and off
Cons
Pricy
Base is a little narrow
This is supposed to be a product designed for use in the hotel industry, so it's probably little wonder that it looks as sophisticated as it does.  It has a lot of nice features built in, including a very easy-to-read LED screen and a nice remote control.  Still, it does come at a higher price than the previous models in this list, so it's a little bit of an annoyance that its base doesn't seem as wide or even as sturdy as it should.  It's not prone to tipping at all, just to be clear, but those qualities of the base might bother some people even without that.
Dyson Air Multiplier Tower Fan

This Dyson Air Multiplier Bladeless Tower Fan uses Air Multiplier technology to send out cooling air from the ring-like aperture.  Energy-efficient and quiet, it also has a sleep timer that can be adjusted anywhere from 15 minutes to 9 hours.  It has a remote control and 10 airflow settings. This is the most expensive fan comparing to all others from the article.
Pros
Very stylish
Very easy to clean
Very quiet
Cons
Moves/blows less air than blade-equipped fans
Costly
No lineup of top tower fans is complete without this, really.  The Dyson tower fan has to be one of the best-known tower fans today, not because it's such a conversation piece.  Does it work?  Yes, but it's still not as powerful as a bladed fan.  On the flip side, it does produce more consistent airflow, less noise, and more curiosity from you visitors.  If all of that (and its safety, naturally) are worth the upper pricing, then go for it.
Which Tower Fan Is The Best? Conclusion
What's the best buy here?
Evaluating them on a value-per-dollar basis and according to what most people probably want out of their fans, the best buy is probably a toss-up between the Lasko T42950 Wind Curve Fan and the Honeywell Fresh Breeze Tower Fan.
Both aren't among the priciest products for the category but still deliver some very solid value.  Of course, individual needs and preferences can change the answer here even then—if you have a strict budget, for instance, you may well end up going for the bargain item instead, which is the Holmes.
But if choosing only one fan, we would probably choose the Lasko T42950.
We hope you enjoyed reading our best tower fan reviews. Let us know your thoughts in the comments!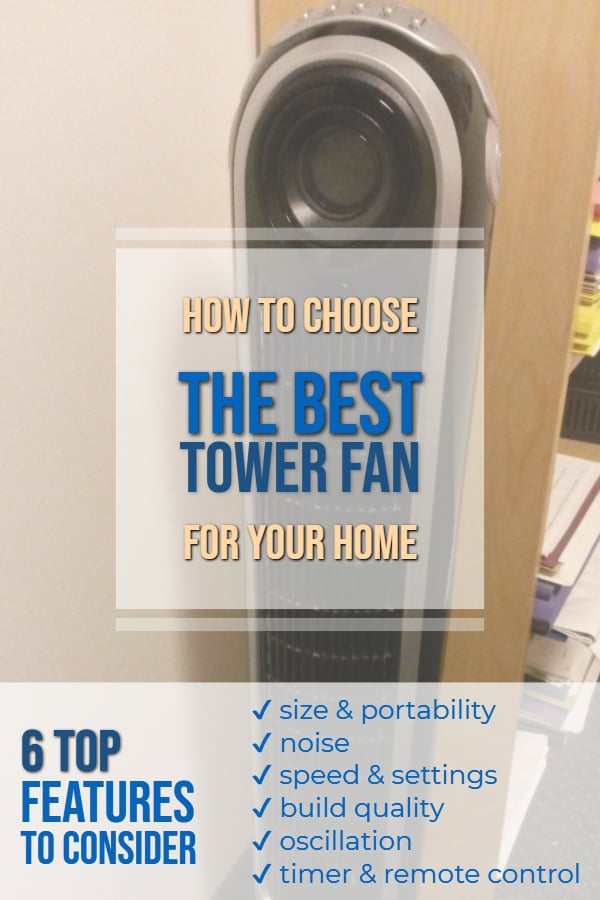 Last update on 2023-02-02 at 17:40 / Affiliate links / Images from Amazon Product Advertising API