Here we give you our Ceramic Heaters Advantages & Disadvantages to make it easier for you to understand how they work and if they are worth it for installation or purchase. Read below for more details.
What Is a Ceramic Heater?
Ceramic heaters are space heaters that generate heat through ceramic heating elements that have a positive temperature coefficient. Portable ceramic heaters are generally used to heat small areas, making them comparable to metal element fan heaters.
How does a Ceramic Heater work?
Each heater works in its own way and offers different features. The ceramic heater operates on the principle of resistive heating. In simple terms, electrical currents are passed through conductors to produce heat. 
Ceramic plates are used in this case as the conductor. The ceramic conducts heat very well and offers high resistance to the current. Due to the resistance, a current struggles to pass through the ceramic, and in doing so, it produces more heat!
Heat is conducted by coils of metal that are attached to ceramic plates. This heat is then absorbed by the ceramic plates and released into the air.
Ceramic heater benefits
There are some great benefits to having a ceramic heater. They are lightweight and also generate a lot of heat from a small box. 
Don't think they're just for your home either consider putting them in your caravan, garage, or outside office or studio as well. There are usually simpler (and cheaper) ways to heat these areas than extending the central heating system and this is still energy-efficient. 
They come in all sorts of models and some will also offer cool air as well as hot which is great as an all-year-round unit to meet your needs for anything from home to business. That's why reading our Ceramic Heaters Advantages Disadvantages can help you choose the best heater for your needs.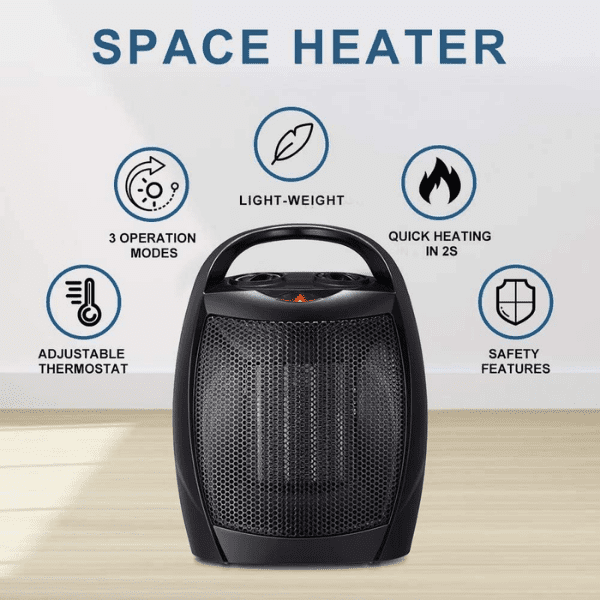 Ceramic heaters advantages
There are many advantages to ceramic heaters. Let's look at a few.
Saves Electricity:

Ceramic heaters do not waste much energy. Ceramic material is heated to a specific temperature, and once the temperature is reached, the electric current is shut off, utilizing the energy stored in ceramic. This means they require less energy to generate more heat, so they can help you save money on your electric bill.

Accurate Heating:

When the ceramic heater is used with a fan, the airflow can be aimed precisely to where you need hot air. Furthermore, the heater's fan helps to evenly distribute warm air throughout the room.

Lightweight & Portable: 

It is one of the most portable heating options to use ceramic space heaters. Transporting them from room to room in your house is easy because they're so small and light. 

Inexpensive:

Heaters that operate efficiently can often be more expensive to purchase. However, ceramic heaters are much cheaper to buy and to run, making them a win-win situation for both parties. 

Safe Heating:

Ceramic heaters have a lower risk than other types of heaters. The safest option on the market is ceramic heaters, especially when paired with additional safety mechanisms. Your ceramic heater may also have the following safety features:

Safe tip-over feature:

This feature automatically turns the heater off in case it falls or tips over.

Safe to Touch

: The in-built feature prevents the outer body of the heater from becoming too hot to touch.

Overheat protection:

The heater shuts off if it becomes overheated. This can prevent a fire from originating because of overheating.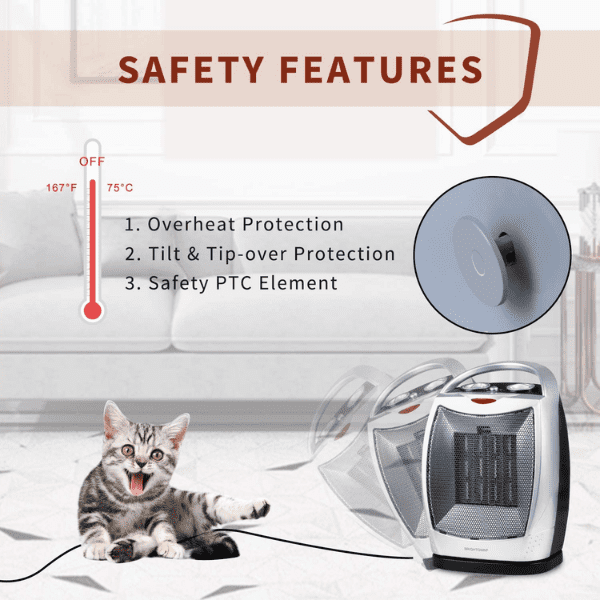 Ceramic heaters disadvantages
Ceramic heaters have a number of disadvantages, including:
Noisy:

You may be distracted from getting a peaceful night's sleep by the fan rotation. Over time, you'll get used to it. It's a small price to pay for better heat emission. 

They don't work well for large spaces:

Since the heater can only heat small spaces, using it for larger rooms would be inefficient.

Solid objects can prevent heat transfer:

As heat is transferred through radiation, solid objects like furniture or clothing can prevent heat transfer.

They aren't suitable for people with breathing difficulties:

Ceramic heaters may contain harmful chemicals that put the health of people at risk.

The heater needs time to warm up:

It takes time for the heater to transfer the heat to the room. You need to wait for the heater to fully warm up the room.
Frequently Asked Questions about Ceramic Heaters
Ceramic vs fan forced heater. Which is better?
The difference between a ceramic heater and a fan heater is that a ceramic heater uses a ceramic plate while the fan heater uses a filament for heating areas. Ceramic heaters retain heat, so they provide more warmth than fan heaters. They both use fans, however. 
How Much Electricity Are Ceramic Heaters Consuming?
In comparison to an electric fan heater, a ceramic heater does not use a lot of electricity. The ceramic heater provides a more efficient way to heat the environment and provides warmth for up to ten hours without requiring additional power or recharging.
To find out how much an electric ceramic heater might cost to run, check out our article here.
Are ceramic heaters capable of emitting carbon monoxide?
No. When used correctly, ceramic heaters do not emit carbon monoxide into the air. Even so, there is always the possibility that carbon monoxide can be released if appliances such as an oven or gas stove in your kitchen are defective and release this poisonous gas into the air. 
Final Thoughts
People rush around to find warm clothes, accessories, and equipment when winter approaches. A space heater is one of those items that everyone buys during the winter. Today, ceramic heaters no longer require a plug to operate, you can switch it on and off with a remote control.  
There are many advantages and disadvantages to using a ceramic heater. It is important to remember that everything has both advantages and disadvantages and that it may be best to look at the advantages more, as they might just suit your lifestyle. 
Portable Electric Space Heater, 1500W/750W Ceramic Heater with Thermostat, Heat Up 200 Square Feet...
andily Space Heater Electric Heater for Home and Office Ceramic Small Heater with Thermostat,...
Amazon Basics 500-Watt Ceramic Small Space Personal Mini Heater - Black
Lasko Oscillating Digital Ceramic Tower Heater for Home with Adjustable Thermostat, Timer and Remote...
We hope you like our Ceramic Heaters Advantages Disadvantages and help you decide on whether it suits your needs.
Check Out WhatFans Other Fan Articles & Reviews below –
5 Best Fan Heater Combo Reviews
Tips For Heating A House Without Electricity
How Much Electricity Does A Space Heater Use?
Dyson HP02 Pure Hot and Cool Link Reviews
Heat Storm HS 1500 PHX Wifi Review
Last update on 2023-02-02 at 17:40 / Affiliate links / Images from Amazon Product Advertising API