In general, allergies are caused by the immune system being hypersensitive to usually harmless substances found in nature such as pollen, mold, bee venom, or certain foods. An allergic reaction can cause skin, ear, sinuses, airways, and digestive system inflammations/infections when you come into contact with these substances. 
Comparison Table
Additionally, if issues like ear infections and sinus infections are left untreated, they may start to occur more often, which could lead to even more serious complications such as asthma or structural sinus disease.
Getting an air filter or purifier is one of the best ways to reduce allergies. The type of filter/purifier you choose should match the degree of filtration/purification you are looking for. 
Let us explore how air purifiers and air filters work separately in order to better understand how they reduce allergens and other air pollutants.
Air Filter
Air filters are devices that facilitate the reduction of solid airborne particles that are generally harmful to human health and cause respiratory problems if inhaled.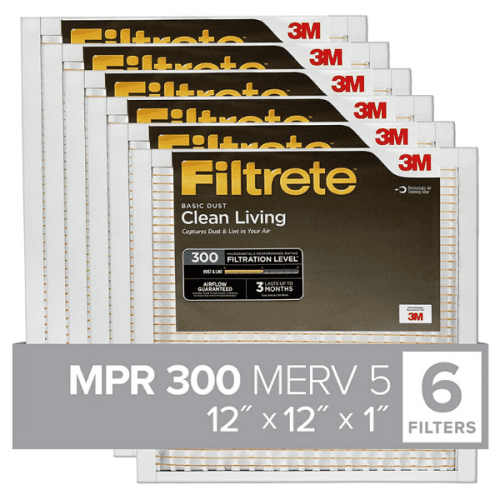 By utilizing fiber-pleated paper, absorbents, chemical filters, etc., the air filter cleans the air to a breathable level, while ensuring that the air contains no odor for the intended users. If you want clean air in your home, you can install a filter in your heating, ventilation, or air conditioning system.
Do Air Filters Help With Allergies?
Yes, air filters reduce allergy symptoms. Some specific types of filters are good for combating allergies. Two types of air filters are given below;
1- Permanent Electrostatic Filter
One of them is a permanent electrostatic filter with a MERV rating of 8 and microns 1, which is good for people suffering from allergies. With self-charging fibers, these filters capture airborne particles. Furthermore, these filters have washable versions as well. But immediately after cleaning, make sure they are completely dry before putting them back in their places. 
This Permanent Electrostatic on Amazon Works Efficiently
2- Disposable Electrostatic Filter
Another type of filter that you could consider is a disposable electrostatic filter that has a MERV rating of 10 and microns 1. Disposable electrostatic filters contain the same material as the permanent electrostatic filters for the purpose of eliminating airborne particles. These filters are not intended to be reused. However, they can still trap microscopic particles. If you want them to work properly, you'll need to change them more often.
The Disposable Electrostatic Filter Below Is a Best Seller on Amazon
Check Out This Video On Youtube To Find Out The 3 Best Air Filters That Improve Allergies
Air Purifier
An air purifier is a standalone device that is designed to reduce contaminants from the air so that indoor air quality can be improved. 
Check our article – How Do Air Purifiers Work?
Will an air purifier help with allergies?
You're in the right place if you're wondering: do air purifiers help with pollen or allergies. The purpose of an air purifier is to reduce allergens from a room's air by trapping them and pushing back filtered clean air.
Pollen in the air can be reduced through the use of an air purifier, which can alleviate allergy symptoms. However, each person will experience different results. The effectiveness of an air purifier varies depending on several factors, including the size of the room in which it is placed, the purifier model, the local weather, and your health.
There are several types of air purifiers depending on your preferences. Some of them are explained below;
1- HEPA Filters
Air purifiers with HEPA filters can effectively remove most allergens such as dust, pollen, and pet hair from the air for allergy sufferers. However, even HEPA technology can only remove particles smaller than 0.3 micrometers.
Check Out This Great HEPA Filter on Amazon
2- Air Ionizers
In contrast, ionizers use filters that attach themselves to charged ions, and as a result, filter out even the finest dust particles. This method is effective, but it produces a large amount of ozone, which, in high concentrations, can be harmful to health. Even at low concentrations, unpleasant ozone odors can be detected, which can be particularly unpleasant for extremely sensitive people. Therefore, those who suffer from allergies can be particularly sensitive to ozone.
This Air Ionizer below performs exceptionally well
3- Air Purifier with Plasma filter
An air purifier equipped with a plasma filter is considered one of the best air purifiers for allergies. Even the smallest particles can be filtered out of the air using filter technology, which is still not very widely used but very effective nonetheless. Thus, you can breathe easily at home without worrying about the quality of the air. Allergy sufferers are also not at risk since no harmful ozone is generated.
Here's a Great Air Purifier with Plasma Technology For Sale on Amazon
Check Out This Video On Youtube Of Do Air Purifiers Help With Allergies?
FAQ's 
1- Does an air purifier help with cat allergies?
If you are wondering: Does an air purifier help with dog allergies or cat allergies then the answer is yes, air purifiers are effective in addressing pet allergies. An air purifier filters the air to eliminate particles such as cat dander, which often irritates the eyes and lungs. Make sure the filter is a True HEPA filter, as this will remove the most pet dander.
2- What does an air filter do?
An air filter removes allergens and other airborne particles from the air in your home. There are a number of different types of filters available in the market. A filter can be installed on your heating, ventilation, or air conditioning system to help you keep the air in your home clean and fresh.
3- Do air purifiers help with dust mite allergy?
The presence of dust mites in your home can trigger the symptoms of those suffering from allergies and asthma. Dust and dust mite allergens can be reduced effectively from the air by an air purifier, which will make breathing more comfortable. 
Final Thoughts

 
In this article, we have explained in detail: Do Air Filters Help With Allergies? And Would an air purifier help with allergies?
By now, you probably wonder which one is better. This will depend on your personal preference. We are unfortunately experiencing a continuous decline in air quality. It is because of this reason we are seeing a growing number of people seeking ways to keep their houses pollution-free.
You may want to begin by investing in an air filter with a MERV rating that ranges between a mid-to-high one. A high-MERV air filter coupled with an air purifier is recommended for anyone suffering from allergies, susceptible to illness, or sensitive to pollution. By doing so, you will be able to improve the air quality in your home.
Thanks for reading our article on Do Air Filters Help With Allergies? If you find it helpful, please let us know.
Best Deals on Amazon
LEVOIT Air Purifier for Allergies
Germ Guardian True HEPA Filter Air Purifier
Hamilton Beach TrueAir Air Purifier
Check Out

WhatFans

Other Articles & Reviews below –
Proton Pure Air Purifier Review
Do Air Filters Help With Dust?
LtYioe USB Mini Humidifier Review
Last update on 2023-02-02 at 17:40 / Affiliate links / Images from Amazon Product Advertising API