Here we give you our Solar Roof Vent Pros and Cons so that you know exactly how they work, if they're worth installing, and if it's worth purchasing. Solar roof fans are a great addition to your home and a worthy renewable option compared to the plug-in AC type. Read below for more details.
Solar Roof Fans Pros and Cons
What Is A Solar Attic Fan?
The solar attic fans are a regular type fan that is powered by the solar panel and circulates the air in your attic to cool it down. The solar panel is powered by the sun and operates the fan with zero expense. Installed on top of your roof, which requires a hole to be cut to the desired shape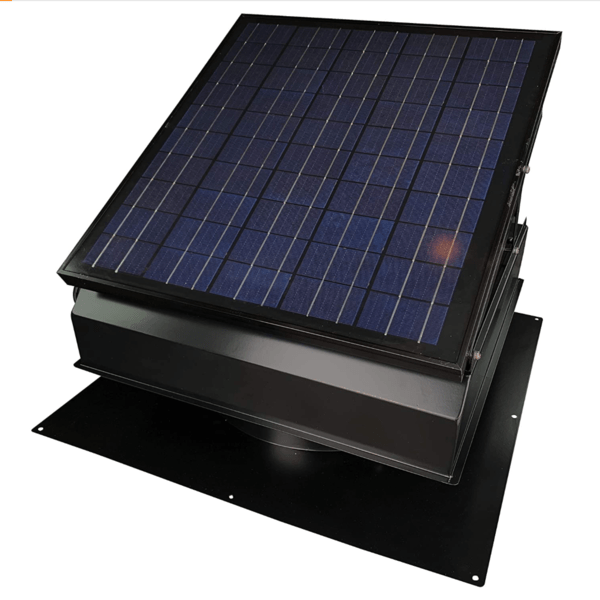 Why Install A Solar Attic Fan?
During the summer months in hotter climates, your roof attic can become 5 times hotter than inside your house! As your air conditioner works hard to cool your house down, it needs to work even harder when your attic is roasting like an oven.
Here, the best thing you can do to help reduce the heat and reduce your electricity bills, is to install a roof vent fan. Solar Roof Vent Fans are the perfect addition to circulate air and cool your house down. Working with a vent gives the most benefit to your air circulation.
Benefits
There are some great benefits in having a solar powered attic fan, as they work autonomously and don't have the need for new electrical wiring to be installed to power the device. I'm saying that, they do come with some disadvantages also, which we will discuss further in detail.
These come in a range of sizes & styles that look slick and suit your needs for home or business. Thats why reading our solar roof fans pros and cons will help you decide which one suits your needs.
Read below for our detailed
Solar Roof Vent Pros and Cons
Pros
Easy to install
Quiet operation
Zero running cost
Autonomous running
Cools down your attic, making your air conditioner more efficient and cost you less over time.
Cons
Doesn't work well in cloudy conditions
Not as powerful as an electric plug-in type
More expensive than the plug-in type
Final Thoughts
Solar Attic Fans are a great way to install a roof fan without relying on the electricity grid to make it work, and lessens your carbon footprint by using renewable energy. The fan power is less than the plug-in type, so in really hot areas you may need 2.
Electricians are not required to install this unit, so the extra money you pay to purchase, is covered by the cost of an electrician to install a plug in type. In saying that, good models have an AC adapter that can help in some extreme cases or hot nights, but in most cases its not required.
The fact that they don't work as well in cloudy conditions, does not matter too much, as your roof doesn't get as hot as in direct sunlight, when it will work anyway. Its an obvious choice to go for a Solar Attic Fan.
Check Out These 2 Great Solar Attic Fans on the Market Below!
iliving Solar Attic Fan 

– iLIVING HYBRID Ready Smart Thermostat Solar Roof Attic Exhaust Fan
Specifications –
21 x 21 x 10 inches
30 pounds
Smart thermostat control 65-130f
Ip68 water proof
Brushless motor
20W
1750 Cfm
Up to 2500 sq ft capacity
Adjustable panel tilt
Add on feature that plugs into AC
Remington Solar Attic Fan – 
40-Watt Solar Attic Fan with Thermostat/Humidistat/adapter
Specifications –
22.5 x 22.5 x 11 inches
Automatic Humidistat & Thermostat
Hail and Weather Resistant
Brushless motor
40 Watt
2340 Cfm
Up to 3400 sq ft capacity
Adjustable panel tilt
Automatic switchover AC adapter
We hope you like our Solar Roof Vent Pros and Cons and helped you make a decision in whether it suits your needs.
Check Out WhatFans Other Fan Articles & Reviews below –
Last update on 2023-02-02 at 17:40 / Affiliate links / Images from Amazon Product Advertising API