Looking for a tower fan to cool your room? Holmes Tower fans can be a popular and affordable way to keep your home cool. I have a couple of friends who have opted for Holmes tower fans in their home and some even have more than one, as they have a lot of faith in the brand.
In this handy Holmes tower fan review, I'm happy to provide a full overview of the Holmes brand and, specifically, their range of tower fans.
Comparison Table
Holmes Oscillating Tower Fan 32 Inch with Remote Control HT38R-U
Holmes HTF3110A-BTM 31inch Oscillating Tower Fan
Holmes Mini Black Tower Fan, HT17MBK-U
Presenting the Holmes Brand
Holmes fans are made by Holmes Products, whose website can be seen here.

Image credit: holmesproducts.com
The brand specializes in a number of products and, besides fans, they also make air filters, humidifiers, and humidifiers.
The brand is based in Milford, Massachusets and dates back to 1982. The company has changed hands a few times in its history and used to be owned by Berkshire Partners, but now is in the hands of the Jarden Corporation, a massive company with over $8 billion in turnover, annually.
Holmes makes their own products, rather than just acting as a reseller of fans made by other brands. While their Milford headquarters is their base for their business operations, their products are not made in the USA. They have strong ties with the far east, having opened their first factory in China way back in 1989, as can be seen on this government site.
Though Holmes operates under its own brand name, they also manufacture and sell products under other names. The Bionaire and Patton brands are also made by Holmes Products. Though these brands have their own support and head offices, Holmes is technically the manufacturer, so they could be considered sister brands.

Image credit: holmesproducts.com
Presenting the Holmes product line
Holmes describes its tower fans as being among the more popular fans in their range, due to their "elegant appeal and space-saving profile". Though elegance isn't what most people look for in fans, their smaller size is a key component.
Our Holmes 36-inch tower fan review below shows that these products can be tall, but also still be thin and space-saving. There is also a 31-inch Holmes tower fan (also see our review below), the HTF3110A-BTM, which is a shorter option.
Holmes tower fans are compact and certainly thinner than some of their stand fans.
The trade-off is that they don't create quite as much airflow as a stand fan. However, these fans are perfect for people who don't have a great deal of floor space and want to create some airflow. They are also suitable for those who don't have a window in the room they are trying to cool and, therefore, aren't able to use a window fan.
Holmes tower fans are not suitable for everyone. If you need a huge amount of power or you want to be able to direct your airflow higher then it might be better to opt for a pedestal fan. Though tower fans are compact, if you are really short on floor space then it could be better to go for a window fan or ceiling fan.
Though you may think that fans are an alternative to air conditioning, they actually can be used alongside an AC unit. In fact, if you pair your air conditioner with a fan, it can even save you money, as you will be able to run your air conditioner less or on a lower setting. Modernize.com explains the benefits of combining a room fan with an air conditioner.
Before you make your purchase, think about how much space you have. If you are happy to give up more space and you need to maximize airflow, it might be worth considering a stand fan. Alternatively, if you have a window in your room, you might want to opt for a window fan.
But, if you can only sacrifice a small amount of floor space and value the features of a tower fan, it may be the most suitable for you. This is especially true if you are looking for a fan that rotates and has a remote control, as we see with Holmes tower fans.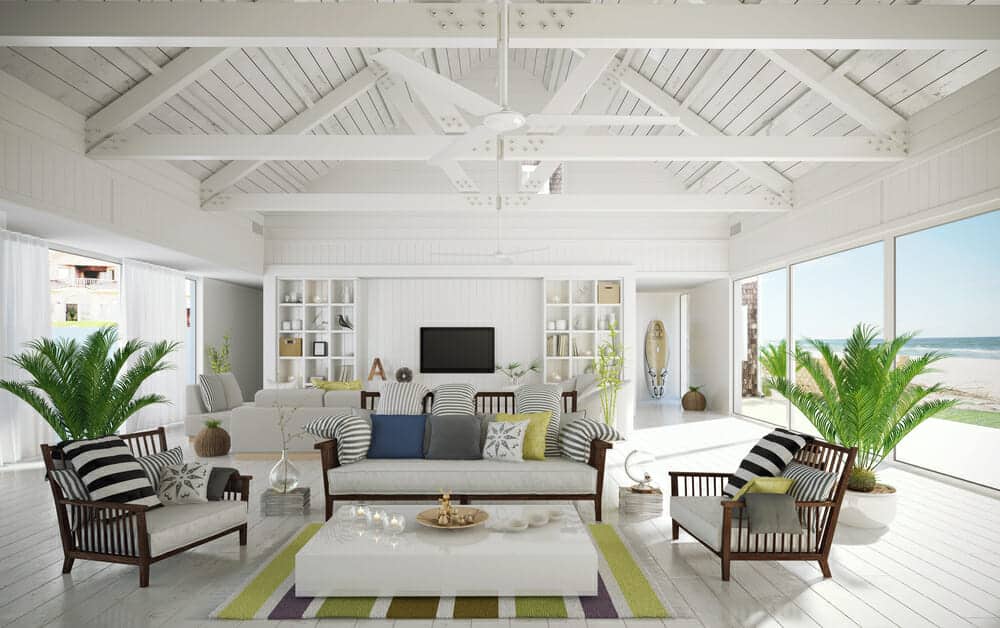 Image credit: modernize.com
Features & Benefits
Holmes tower fans have some distinct features that set them apart from some other brands and from the other fans within their range.
Remote Controls
Most Holmes tower fans are available with remote controls and have multiple settings. This means that you can change the setting of the fan from one location in the room and you don't have to get up to alter the power. This is especially useful if you are using the product in bed and don't want to get up to make alterations.
Oscillation and Rotation
The top products in their range, such as the HT38R-U, offer multi-directional oscillation. This is an automatic feature and, combined with rotation, it can fill a large room with a soft breeze.
The HT38R-U fan has adjustable shutdown timers. This is a feature you can't necessarily get with a desk fan or window fan. Holmes tower fans can be set to automatically shut off after a certain period of time, for instance, you can set it to turn off during the night, just like a sleep timer on a television.
Automatic Shut-Off
By automatically shutting off after you've fallen asleep, when your room may be cooler, you can save money on your energy bill. The brand offers decent energy efficiency and is likely to be more efficient and better for the environment if you are replacing an old model.
Portability
The fans in the range are quite lightweight, portable, and they take up very little floor space. There is even a mini fan option, for those who value the portability of the fans. This means they are pretty simple to move from room to room and they even have a carry handle.
If you are looking for a way to overcome the heat wave then you are at the right place. Here, we will review a total of 3 tower fans introduced by Holmes. In these Holmes tower fan reviews, we will unmask the advantages and disadvantages of each fan and compare them so that we can help you decide which one is best suited to your needs.Keep in mind that all of these systems are Holmes products and are one of the best in the business with slightly different features. So pick the one that meets your requirements.
Holmes 36 Inch Oscillating Tower Fan
This product, introduced by Holmes, stands 36 inch tall with the ability to do oscillation for better air flow and cover a lot more area than other fans in the same category. With its narrow design, quiet operation and automatic shutdown timer, it is a perfect tower fan for your house. This fan also comes with a remote control which can be used to control its multifunctional control panel right from the comfort of your own bedroom. The three speed settings and timer options gives you a perfect way to customize the fan cooling according to your needs.
This HT38R-U fan is a product that can be used during the day to make your rooms filled with airflow. With its powerful breezing mechanism, it can easily cover spacious rooms as well. This means that you only have to set it in a corner and it will get the job done. It also is extremely efficient at night time cooling with its sleep mode. You can just set the shutdown timer and enjoy a noiseless cooling effect all night long. With its multiple features and advanced technology, it has proven to be the best heat relieving equipment for all its users.
Features
36 inch height
Thin design
Only 9.2 pounds
Energy saving capabilities (60% less energy consumed)
Automatic multi-directional oscillations
Adjustable shutdown timer
Multiple speed settings (3 different options)
Remote control
Easily accessible control panel
Storage for remote control
LED light indicators at the top
Quiet cooling
Sleep mode availability
3 year warranty
Pros
Space efficient
Light weight
Suitable for large rooms
Noiseless
Compact structure
Powerful
Perfect for congested rooms and areas
Cons
Delicate material (plastic)
Conclusion
HT38R-U is perfect for those who don't have a lot of space in their rooms. It can easily fit in any corner, thanks to its slim design. With its powerful technology and oscillating functionally, it can easily cover even the largest rooms easily. It might be a little pricey for some people but it's one of the most effective and highly powered fans out there in the market these days. So if you just moved to a smaller place or you just bought new furniture and there isn't much space available, this fan is perfect for you.
Holmes 31inch Oscillating Tower Fan
A 31 inch tower fan with a perfectly designed body that lets it settle even in the smallest of the places. With its light weight and powerful airflow, it is one of the best all-rounder fan in the market right now. Despite its small size, it is equipped with a fully functional control panel that offers access to multi-functional system like oscillation control, speed control setting (slow, medium and high), and auto shutdown timer (for a maximum of 2 hours).
This HTF3110A-BTM tower fan is perfect for indoor usage because of its light weight which makes it easily portable. It can be used in bedrooms, living rooms and even kitchens. You can simply use it by the bedside during the night and put it back in the washroom during the day single handedly. And its remote control makes it even easier to control it from quite a distance. So even if you are using it in your bedroom you don't have to get up to change the speed, you can just use the remote control. With its 3 speed settings combined with motorized oscillation functionality, it can easily provide air flow even in medium to large sized rooms without any problem. And the best part about it is its reasonable size. You can install it wherever you want in the room and no one will even notice it.
Features
Sleek tower design
Small size
Portable
Motorized oscillation in multiple direction
Energy efficient
Shutdown timer (up to 2 hours)
Speed control settings
User friendly top mounted control panel
Remotely controlled
3 year warranty
Pros
Light weight
High portability
Quite
Small size
Low price
Easy to setup
Cons
Not so powerful
Might vibrate due to oscillation
Conclusion
Although small in size, it is quite powerful when it comes to blowing a room. With its controllable oscillator, it can be adjusted to cover a large living room or deliver direct airflow in small spaces. It possesses all of the major features with just enough power to be able to compete with other high powered fans in the market which makes it a perfect fit for people with low or medium budgets.
Holmes Mini Black Tower Fan
A tower fan with the weight of only 4 pounds, there's no doubt that it's one of the lightest fans out there in the market. HT17MBK-U is perfect for people who don't have enough space in their rooms. Its small size lets it adjust anywhere you want and its reduced structural weight lets you move it whenever you want wherever you want without any hassle.
HT17MBK-U takes up just a few inches of space in your room. So even if your room is congested and have no space at all, HT17MBK-U will fit right in. It comes with a speed control of two settings to switch between low and high airflow. So you can either use it for normal airflow or you can switch for cooling effect. Oscillation option is a plus as it can be used to cover a much wider range of area. There are lots of options in the control panel (at the top of the fan) that can be adjusted to make the fan suitable for your needs. The best thing about HT17MBK-U is its portability. With its light weight and carry handle, the task of moving it is a piece of cake. But don't be fooled by its small size, even with its mini structure, it can easily cover a whole room with its powerful technology.
Features
Extremely light weight
Metallic casing for extra protection
Control panel interface
Carry handle for portability
Built-in oscillator for wide area coverage
2 way speed control settings
1 year warranty
Pros
Portable
Durable
Not pricey
Noise-free design
Occupy very little space
Cons
No remote control
Oscillation might make noise
Not so powerful
Conclusion
HT17MBK-U is specially designed for users who don't want a fan that takes up a lot of room space. It takes no or very little space which makes it a good fit for small families. Although it might not be powerful enough to cover a gigantic room, it sure is perfectly capable of handling your bedroom and living rooms. So if you are looking for a space saving and portable mini fan, HT17MBK-U is the one for you.
Final Conclusion
In the above Holmes tower fan reviews we have mentioned a total of 3 products each having its own benefits and drawbacks. Although all of these tower fans are best at what they are designed for but we have to pick a winner here. Let's have a look at each of them to see which one is the best for you.
The Winner
Holmes Tower Fan HT38R-U
The Holmes HT38R-U clearly takes the trophy here because of its powerful yet elegant design. It's amazing cooling mechanism and space saving design surely has no match in the market. It's not too large to ruin the beauty of your house's interior and it's not too small to be ineffective in summer. Its beautifully designed structure helps it blend in your home really well. HT38R-U also is known for its durability which means that your investment will last more than a few summer seasons easily. Its 4 star rating at Amazon and tons of positive reviews surely backs up our conclusion here for HT38R-U. It not only has great features, but it also comes with a rather long 3 years of warranty as well. So if you have a little bit of extra money in your wallet then spend it in HT38R-U for best and long lasting results.
Runner-up
Holmes Tower Fan HTF3110A-BTM
The Holmes HTF3110A-BTM on the other hand is an average fan in terms of features which is why it's your second best choice. If you are running low on the budget but sick of the heat wave then it's better to go for HTF3110A. It has all the features of high powered fans like HT38R-U but it also is quite small when compared with HT38R-U. This puts HTF3110A-BTM right in between extreme heavy and light duty ventilators. It also comes with a 3 year of warranty which will protect your investment if something goes wrong. It's perfect for those households that are looking for a space efficient product to help them keep their summers bearable. So if you are living in an area where summer isn't so extreme and you are a bit low on budget, HTF3110A-BTM is your best bet.
Third Choice
Holmes Tower Fan HT17MBK-U
Last but not the least is the Holmes HT17MBK-U. This tower fan is perfect for you if either you are short on money or you are just looking for a side kick fan. It's the smallest of all three which makes it a perfect fit for people with a small house. It's not the most effective when it comes to heavy duty breezing but it is more than enough to help you fight the heat wave in summer. What sets it aside from other fans is its size and weight. It's the type of the fan that you can take wherever you want like kitchen and balconies where you don't have a lot of space to setup a big heavy duty cooling systems. Its compact and strong frame also makes sure that it lasts at least a couple of falls as well. HT17MBK-U comes with a reasonable price tag which makes it affordable for almost everyone and number third on the list.
So whether you are looking for a heavy duty long lasting product or you just simply want a pocket friendly fan for your kids, we hope that Holmes tower fan reviews have provided enough information for you to pick the right product for your family.
Features image and Pinterest image via flickr.com/thebetterday4u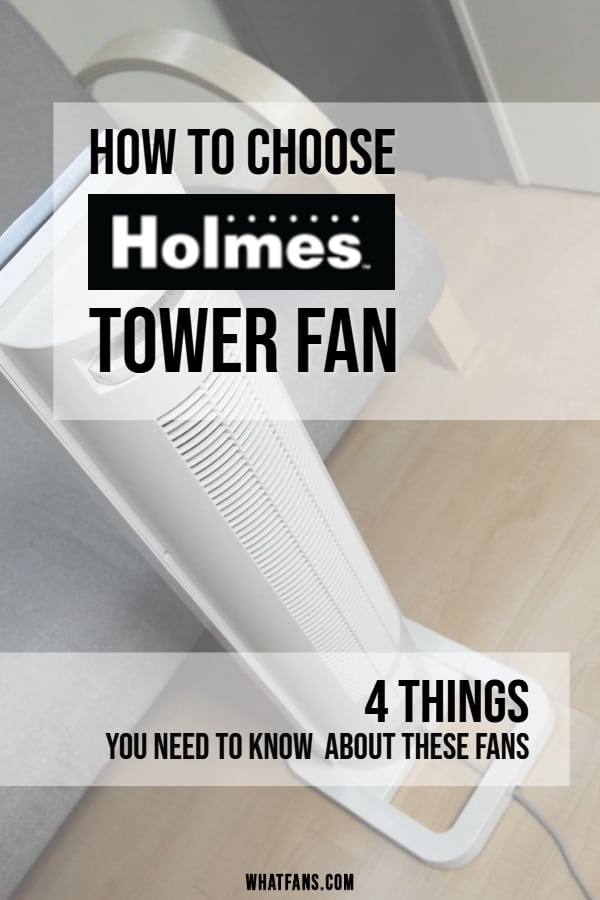 Last update on 2023-02-02 at 17:40 / Affiliate links / Images from Amazon Product Advertising API